You've been dating for long enough to know–you want to commit to this guy until death do you part. The million-dollar question your friends have been asking for months: "When is he gonna propose??"
My husband, Caleb, and I only dated for about 10 months before we both knew we wanted to spend the rest of our lives together. It was only a matter of time before he asked my parents' permission, bought a ring, and proposed (all three of these things being much easier said than done).
I now longer believe in asking parents' permission (more on that in another post).
But I am still glad I helped him out in the ring department and dropped him some hints. After all, I'm the one who proudly wears that engagement ring and/or wedding band for the rest of my life!
Related: 10 Questions you need to ask your partner before getting married
Here are the three methods I recommend you try when gently suggesting an engagement ring style!
The Subtle Method–let your besties and future mother-in-law in on your style.
The Direct Method–just tell your boyfriend what your preferences are!
A Mix of Both–(this is what I did, and it worked wonderfully!)
At the end of the day, a ring is just a piece of jewelry. If you know you're picky, don't leave your beau wonderinf what style engagement ring you want. Just tell him. Also, don't allow fashionable stones like diamonds keep you from branching out into more cost-effective or beautiful options. Garnets anyone??
First, do you even know what style of ring you like?
You won't be able to suggest an engagement ring without knowing what you like.
Before my engagement, I had never worn a piece of jewelry as expensive and important as a wedding band, so I definitely needed to ask myself these questions:
1. What size is my left ring finger?
If you aren't sure, you can go to most jewelry stores and ask them for a ring sizer to try for yourself. I went in to James Avery and checked what size ring I wore…and then walked out without buying anything. #smooth
Keep in mind that hands often swell in the heat and shrink in the cold.
My ring size was 5.5, but that ended up being a bit too loose. I decided to wait it out before going through the trouble of getting it resized and 'lo and behold! My fingers got a bit less slim once after marriage and having a baby!
2. What metal type do I want for the band?
There are lots of options all with varying strengths and costs. Gold, rose gold, white gold, silver, etc. I chose white gold because I liked how it looked (bonus: it's slightly stronger than regular gold!)
3. Do I want my Engagement ring to have a diamond?
I'm all for non-traditional engagement rings and wedding bands. Diamonds of the engagement ring size were not really symbols of love (or expensive at all) before the 1940s. Their prices are artificially inflated whereas other jewels like emeralds or rubies are more realistically priced compared to their rarity.
Perhaps consider a semi-precious engagement ring and a matching diamond wedding band!
4. Do I want a big diamond/jewel?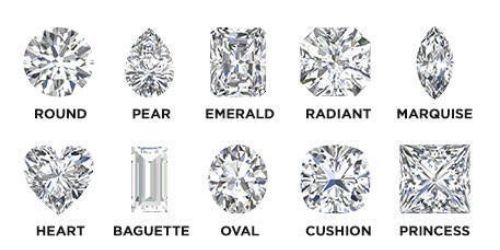 A quick search on the internet will show you the various prices of diamonds related to their weight (carat). Keep in mind: the larger the stone, the more expensive.
Also, if you have a big stone (or a taller setting for the stone), it will get caught on things. Or scratch your husband's face. IYKYK
Also, what cut do you like? Some sizes of diamond look better / cost less for different cuts.
5. Am I willing to sacrifice color/clarity for a larger carat?
This is a personal preference that was very important to me. I preferred to have a smaller carat of diamond that was not yellowish over a huge diamond that has particles and a less-than-appealing color.
(I have seen some very lovely colored diamonds, by the way.)
Caleb was still in college when we got engaged so cost was an important factor in deciding on which of the 4Cs (cut, clarity, color, carat) mattered to us.
We ended up getting multiple smaller diamonds at a lovely color and cut with a good clarity!
6. What Style of Engagement Ring settings do I like?
Ring settings are the architecture of your ring. Do you like ornate or simple?
Think about the height of the ring above your finger and if it constantly snagging will bother you or not.
To figure out what settings I liked, I created a Pinterest board dedicated to my favorite ring styles. It was very helpful when suggesting an engagement ring through my mother-in-law!
7. Do I want a wedding band that fits with my engagement ring?
I have a lovely wedding band that is a matching set with my engagement ring, and I love it! They fit together quite nicely and if I desired to have them fused together, I could.
Okay. Now you should have a pretty good idea of what kind of ring you'd like. Let's get on to the ways to suggest that style to your boyfriend!
The Subtle Method of Suggesting an Engagement Ring
If you don't want to come off as pushy to your boyfriend, yet want to make sure he doesn't buy you a ring that you don't like, it is crucial that you tell somebody he trusts what kind of engagement rings you do like!
Go to whomever you can trust (not someone who will forget/convey the wrong message) will listen to what style of engagement rings you love. Describe your situation–you feel he will propose soon and want to aid him in his ring search. (I'm sure they'll be thrilled to help!)
Illustrate to them what you like in an engagement ring–or better yet, show them pictures! Pinterest is a great tool for this job as it collects all of your ideas in one place.
Encourage the friend/relative of your boyfriend to share your ideas with your boyfriend! Thank them for being an undercover operative for you and consider paying them back with coffee or a gluten-free bagel.
The More Direct Method (Just be honest!)
If you think your boyfriend is proposing soon, hopefully, you have at least discussed the possibility of getting married. If not, maybe check out these helpful conversation starters that you should discuss before/during your engagement.
If you feel comfortable suggesting an engagement ring style straight to him, just go ahead and do it! Be sure you have your ideas sorted and communicate them in a way that is clear and kind.
I highly recommend sharing pictures with him! Many men are very picture-oriented and will be grateful for the reference pictures when making this (potentially huge) purchase later on.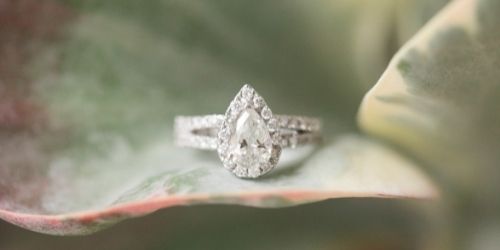 Surprise proposals are really fun and all, but at the end of the day, an engagement ring is a large purchase. I wouldn't leave it all up to chance. Getting married is a decision for both of you to make, so why make one of your first big purchases completely separately? (Side note: don't go into a mountain of debt for an engagement ring. Just don't. Don't let material possessions keep you from your vocation to marriage.)
On the flip side, it is a gift from the boyfriend to his girl. Talking shop on the big picture (cost you're both comfortable with as well as general style ideas) and then allowing him to make the final decision seems like the best compromise to me!
And that leads me to my favorite method for a gentle nudge:
A Mixture of Both Direct + Subtle
Caleb and I had a wedding date chosen months in advance of him proposing to me. Originally, he was going to The Basic School on June 10th, 2019, and we really wanted to get married before he was gone for 6 months!
We decided in the fall of 2018 that we needed to be married before he left, so by winter break, I knew the proposal was coming any day! I'd already shared my engagement ring Pinterest board with my best friend, Emma, but Caleb mentioned to me that he did not trust her to keep his big proposal to me a secret.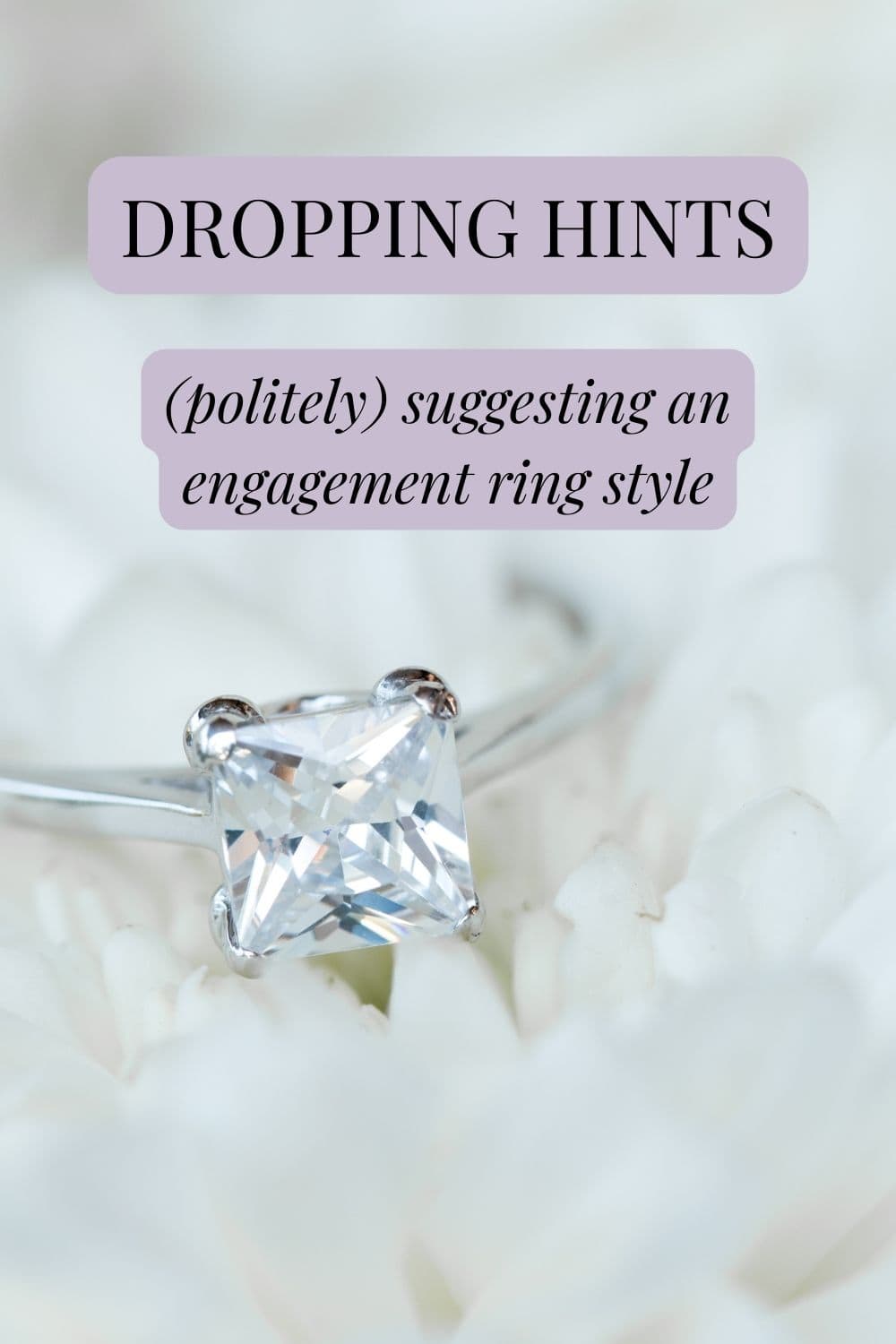 I had no clue when or how he would propose to me, and I was getting nervous that he would buy an expensive engagement ring that I would think was ugly.
Note: I don't think there is anything wrong with not wanting an unattractive piece of jewelry representing your marital promises for the rest of your life. It's not about vanity. It's preference.
One day while spending time with his family in Kingsville, I decided to also share my board with Caleb's mother and sister–and boy, am I glad I did! He felt more comfortable asking them what they thought I would like. They knew exactly what I liked because I had shown them days before.
Caleb was able to purchase a ring knowing the general idea of what I liked and added some touches I had not even considered that I love like the matching wedding band and setting details.
Your engagement ring is a big deal and a big purchase. Find a way you are comfortable communicating with your love what you would prefer for your engagement ring (remembering to keep your future fiancé's budget in mind).
Good luck! And happy engagement! I would love to see pictures of your lovely engagement rings below.
God bless,
Grace
This post may contain affiliate links, which means I receive a commission if you choose to make a purchase through one of my links (at no cost to you). See my disclosure for specifics.