Spring is here!
Caleb and I are doing some really cool landscaping updates to our backyard. We're knocking it out in phases and our new gravel backyard path was part of Phase 1!
Phase 1:
Build compost pile
Plan and create an easy backyard pathway using gravel and flagstones
Build 2 8×3 foot planter boxes & plant vegetables in them!
We're currently in the middle of Phase 2 which includes fun activities such as:
Burning a bunch of brush
Cleaning all the junk off the back porch and shed
Building a privacy fence
Phase 3 includes:
Hang cute back porch and tree lights
Finishing touches on firepit (including a couple new chairs)
Have a backyard BBQ!
So how did we build our DIY backyard gravel path? First, we decided where we wanted it to go.

1. DIY Gravel Path Location
This was pretty simple for us. We asked ourselves:
Where do I want to be walking?
Where will it look nice?
Straight lines or more meandering curves?
The most often traveled part of our yard is from the back porch to the shed. Naturally, we wanted the path to make that trek a little more *luxurious.* On a whim, we also decided to stretch the gravel path out to our new fire pit's location.
We figured we could kill two birds with this one stone path by creating a floor of sorts to surround our firepit.
Once we were sure of where we wanted the path, we unceremoniously dragged a line in the ground using a shovel to mark it. This felt very official even though we weren't technically breaking any ground!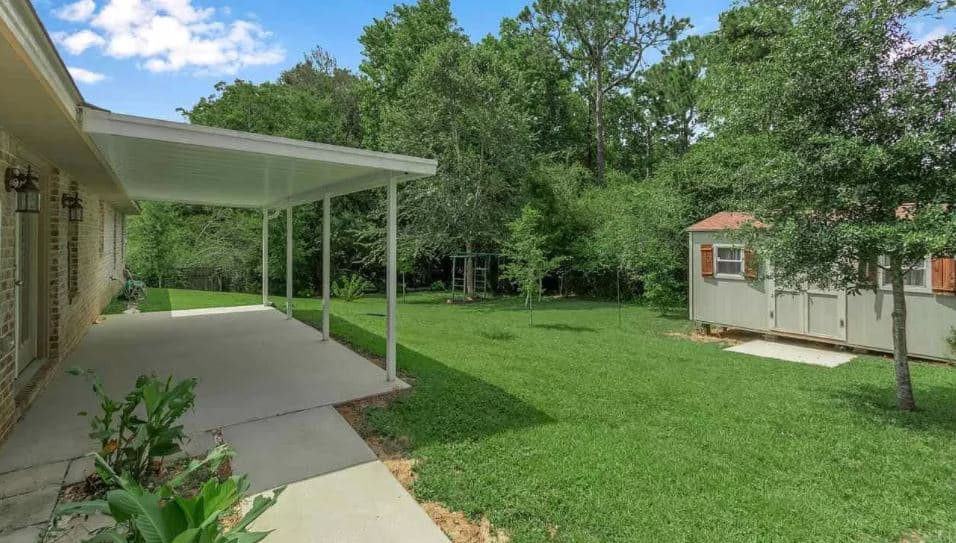 2. What are you making your gravel path out of?
For rocks, we used pea gravel and flagstones (averaging a size of 6 in-24 in across). You could of course only use gravel (which probably would have been cheaper). I like stepping on bigger rocks, personally, so we went with about 40% flagstones, 60% gravel.
Will you use any pavers on the sides of your path? The cheaper alternative we went with is this plastic landscape edging.
Next, (with the help of my father) I did some math😲.
3. Simple Path Measurements and Gravel Volume Calculations
Step 1:
We measured the length (in feet) of the already-determined gravel path. Our path length was about 55 feet.
Step 2:
We decided it should be about 3 feet wide from the porch to the shed (25 feet) and about 2 feet wide the rest of the way (due to the size of the flagstones we planned to use in the gravel path).
Step 3:
My dad told me it should be at least 3 inches deep. It is my opinion that dads ought to be listened to during projects like this.
There are some tutorials (and professionals) out there that insist upon putting a layer of sand or something else before the gravel, but we couldn't be bothered. Perhaps this really would make our path last longer. Perhaps you shouldn't be listening to me (a DIYer) about building a path at all.
I just don't care. To simulate this supposedly earth-shattering tamped-down sandy foundation, we stomped the dirt real good before putting down the flagstones and gravel.
Step 4: Calculate the volume of gravel you'd need to fill the entire path.
For those of us who forgot how to do simple math, volume (feet cubed) is length (feet) times width (feet) times height (or depth; making sure to convert inches to feet).
V = LxWxH
Or, if you're lazy like me, you can just use an online calculator to be really sure you're doing this whole math thing correctly. (An added bonus of using an online calculator like this one is that they take into account the density of the gravel material you're using. According to the internet, the density of the pea gravel we used is 111 lb/ft3.)
The calculator will also spit out the tonnage of gravel you need to fill your entire backyard path with gravel.
By my calculations, we needed about 1.8 (ish) tons.
BUT we didn't order that much because a lot of the volume of our DIY gravel path was actually taken up by the flagstones. In the end, we used:
~0.5 tons flagstone rocks ($187)
~0.85 tons pea gravel ($53)
And a couple other tools and things that I'll talk about next.
4. Who Knew Wheelbarrows Were So Expensive?
Seriously. We paid less for the gravel than for a metal tub with a wheel on it. Alas.
To offset our expensive (yet very helpful) wheelbarrow from Lowe's, we purchased our rock materials from a local rock yard. This saved us BIG bank.
0.85 tons (2 easy truck bed trips) pea gravel from The Rock Yard in Pensacola: ~$53
0.85 tons (68 bags) pea gravel from Lowe's: ~$323
Yay savings! Anyway, here are the other things we needed for our DIY backyard path.
Path Liner 60 ft. No-Dig Landscape Edging Kit ($70)
3 ft. x 100 ft. WeedBlock Weed Barrier Landscape Fabric ($21)
Shovel ($10)
Metal Rake ($15)
Wheelbarrow ($80)
Sod Cutter Rental for 4 hours ($75)*
*This wasn't necessary and was difficult for Caleb (a strong Marine) to push on our slight incline. The alternative to a sod cutter was trying to dig the path out ourselves which didn't seem appealing. In the end, we agree that the sod cutter rental was a good investment and time-saver!
5. How to Lay an Easy Gravel Backyard Path (Blazin' the trail)
Step 1: Sod Cutter.
Like I said above, this thing was cumbersome. And we didn't have a ramp at home to get it off the truck, so we had to improvise.
The videos online where it cuts through sod like butter and rolls it up in a nice, neat grass jelly roll just isn't the reality for our Florida soil. Or maybe we were just doing it wrong! 🤷‍♀️
But once we figured out how to adjust the blade height, turn the thing on, and get it going, it really did blaze a path.
Step 2: Rake and dig out the sod cut path.
If you're pregnant and/or your husband is sunburned all over from the beach the previous day, I recommend inviting friends to help you do the rest of this project. Entice them with refreshing lemonade or adult beverages and the promise of a satisfyingly hard day's work.
Step 3: Even out the depth of the path.
This doesn't have to be perfect, just even enough so the flagstones don't poke too far out of the gravel path.
Step 4: Lay down black landscape fabric and plastic edging.
This was really easy. Just get some scissors and piecemeal the fabric in the path. Our soil here is super soft, so hammering the tacks that came with the plastic edging down was like butter. If your soil is harder, you might need a mallet and/ or more strength than I have.
Step 4.5: (If you haven't already) acquire rocks from a reasonably priced place. Save oodles of $$ by not getting gravel at Lowe's. This took us a couple truckloads.
Step 5: Artistically arrange flagstone rocks.
This was kind of a trial and error sort of operation. Caleb and our helpers unloaded the rocks into the wheelbarrow and then we tag-teamed flagstone placement.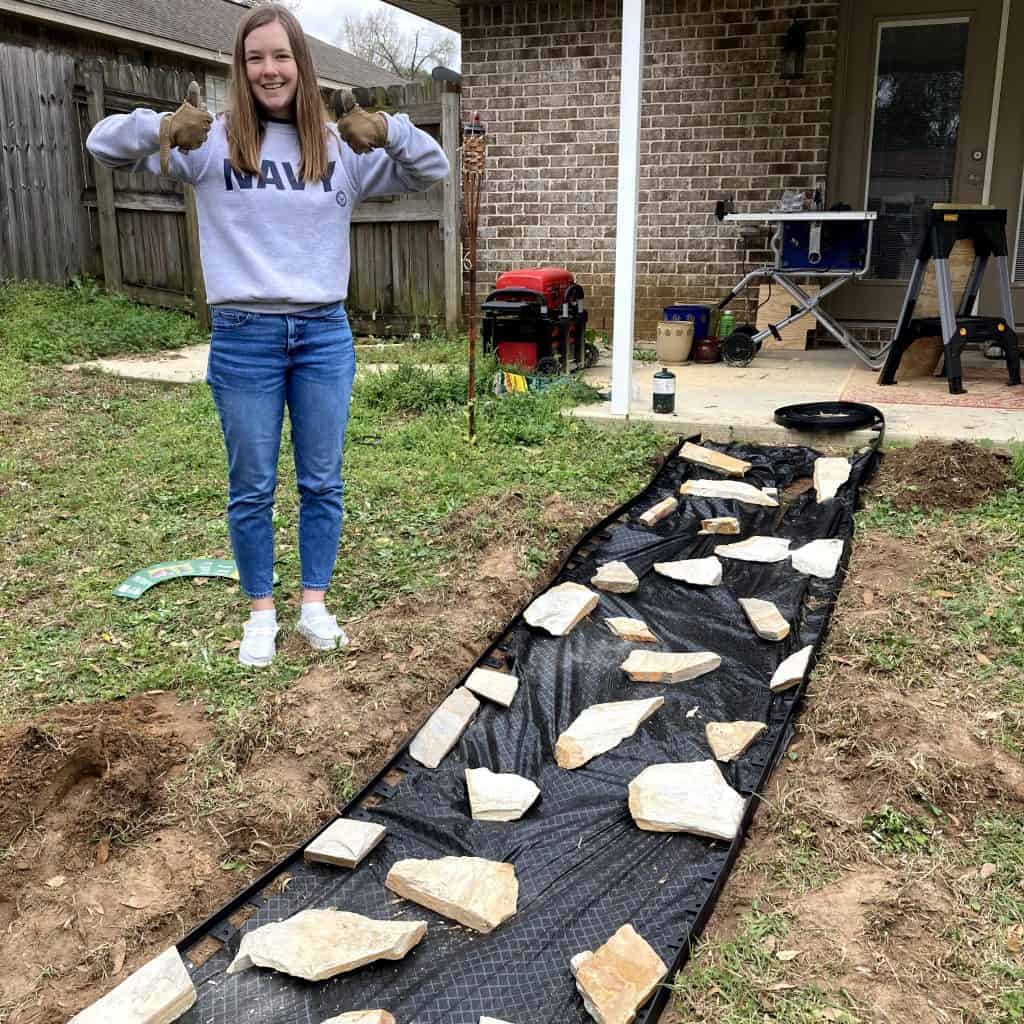 We started placing flagstones along the edge of our path and then added some of the larger flagstones in the middle. Thanks to Sabrina and friends for helping us do all of this manual labor!
Step 6: Fill in with gravel.
After all the flagstones were in, Caleb scooped all the gravel into the in-between spots. Our DIY backyard path was almost complete!
Step 7: Dust off rocks and add soil back near the sides of the path.
After a rain that night, the gravel settled and I was able to see which flagstones were placed awkwardly and move some around. I swept as much gravel off the tops of the flagstones as possible, constantly reminding my perfectionist self that a backyard path is quite literally just rocks on which we place our feet and that it need not look perfect.
And that's it! We're loving our super easy DIY path. It's only been a couple of weeks, but the spillage / kickage is minimal so far. Once the grass grows in around it, it'll look even better!
We are both sooooo glad we DIY'd this gravel path 'cause paying someone to do chain gang work for you isn't cheap. If I could do it again, the only thing I would change is increasing the size of the flagstones from an average of 6 in-24 in across to more of them being 24 in across. (We bought it by the pallet because it was way cheaper that way.)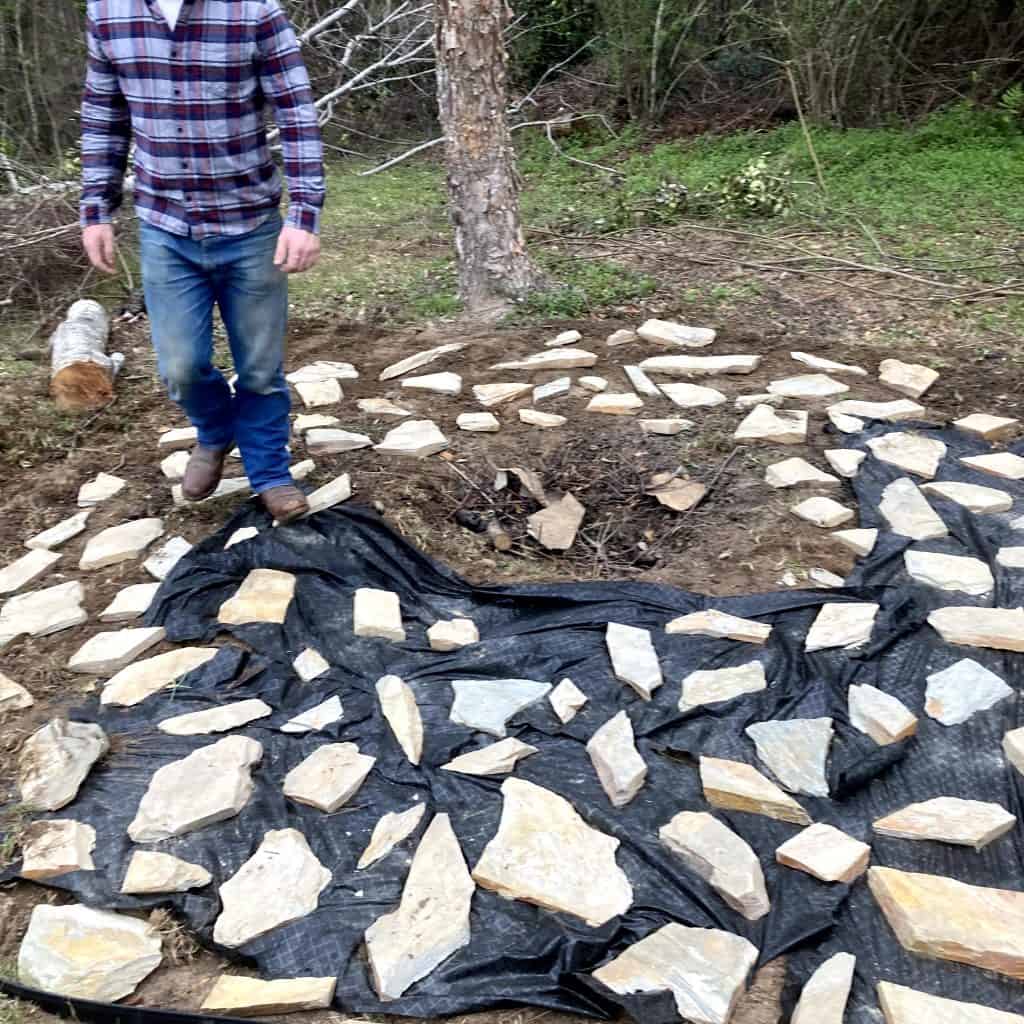 Overall, I'm confident this gravel path is going to withstand a good amount of wear and tear. The best part is, if we need to fix it up, a refill of gravel will be about $25!
I'd rate it a 2/5 on the complexity scale and a 4/5 on the manual labor scale. Now it's off to Lowe's to search for fence pickets!

Thanks for reading!
Grace
This post may contain affiliate links, which means I receive a commission if you choose to make a purchase through one of my links (at no cost to you). See my disclosure for specifics.