I'm taking a brief break from all of my usual blog posts (married life, mama stuff, the Catholic faith etc) to write a post for all of you military spouses out there.
There's this amazing program called MyCAA (My Career Advancement Account) that gives money ($4,000 to be exact) to military spouses toward a certification or further education in their field of choice.
Here's which military spouses are eligible for the MyCAA financial assistance:
Spouses of service members on active duty in pay grades E-1 to E-5, W-1 to W-2 and O-1 to O-2 who have successfully completed high school and have the ability to request tuition assistance [1].

As of 10/2022
I didn't find out about this program until it was almost too late (my husband will be an O-3 come spring).
My Experience as a Military Spouse Receiving Financial Assistance from MyCAA
Note: I will continue logging as I finish the financial assistance process!
10/3/22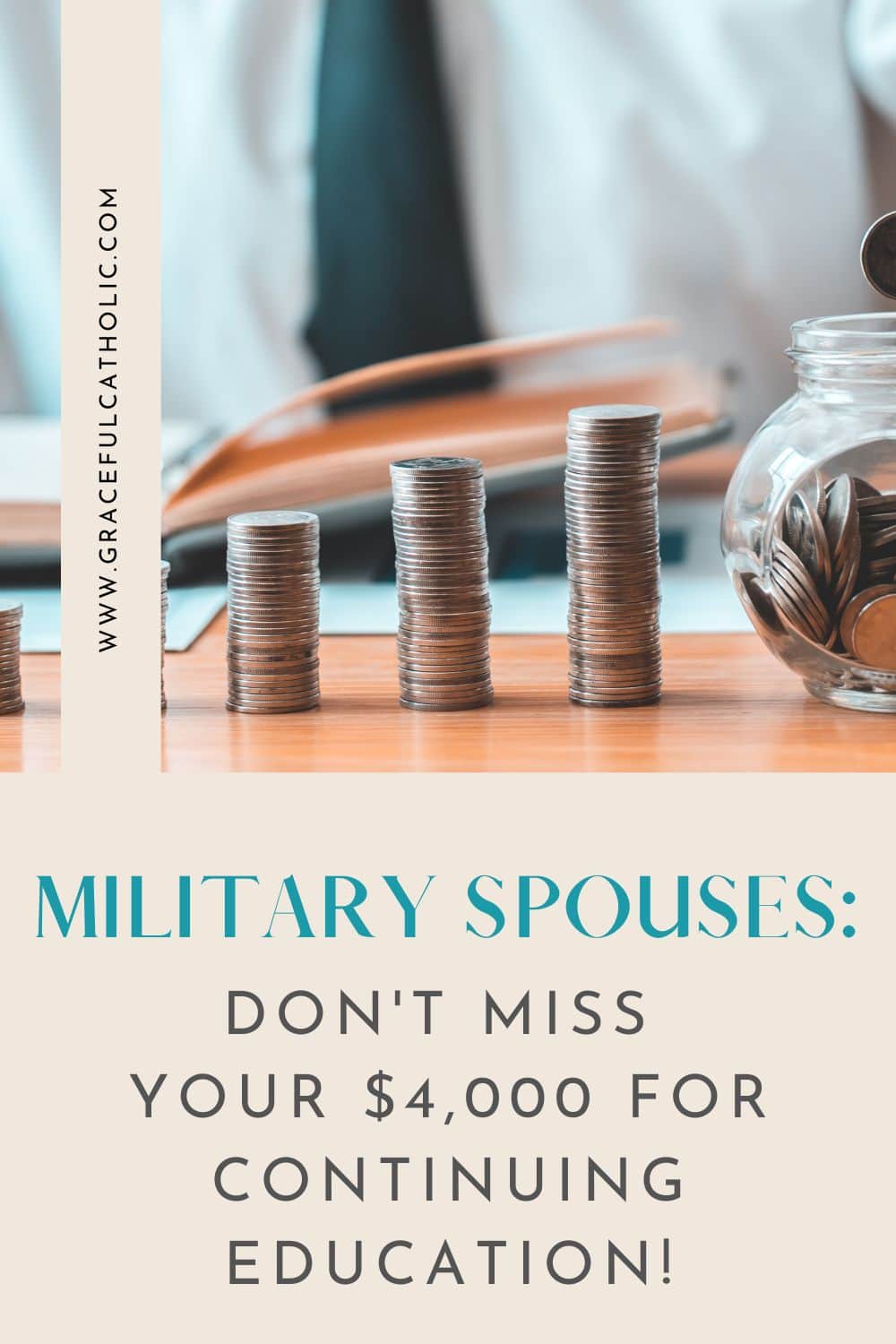 Up to this point, I have had an excellent time applying for the military spouse financial aid through MyCAA. I only wish I had known about it sooner! As a housewife while Caleb was in The Basic Officer's Course I would have LOVED to get certified in marketing or voice or literally anything. That was during le plague and I was tremendously bored.
Better late than never, though!
At first, I searched for a program through the "school search." But this didn't help me, really, as none of the Texas schools I knew about had anything I was interested in being certified in.
There are a LOT of more technical certification / associates opportunities that MyCAA will grant financial aid for military spouses–and $4,000 ain't too shabby a number. Most of the certifications I've seen are in the $2,000-$3,500 range–the butter zone!
How I decided What Certification For Which to use MyCAA Financial Aid
I finally found the "school program search" option and was finally in business (literally).
I began looking for digital marketing or social media management opportunities. But then Caleb gently reminded me that maybe I should advance my education in a subject I actually was passionate about: music.
In the program search I wasn't finding many voice programs that looked promising (many were unlinked and a couple, like Berkley online, were unfortunately discontinued). I was pretty sure I was out of luck with how specific my search was:
1. A certification in music education / vocal performance / voice education / music
2. Needed to be online (because I have a baby and ain't nobody got time to drive to Savannah and back every week)
3. From a credible institution (I have nothing against community colleges. It is wise to earn your basics at a community college and some of them are excellent sources of education for certain disciplines. It IS difficult, however, to determine how reputable a music-based college is at a community college, though).
Eventually, I learned that MyCAA actually has career counselors to help military spouses find programs that fit what they're looking for! Huzzah!
Military Spouse + Career Counselor = Success!
I received help from two separate counselors (mostly because I completely lost the emails from the first . . . oops) and they were both phenomenal.
They walked me through the website (which has so many resources I was terrified and lost haha). And they helped me search the smart way (by filtering for certifications and using different keywords like "music business" "music education" etc).
She then sent me the to-do list to get my furthering education covered by the MyCAA financial aid.
Step 1: Make a MyCAA account (which was with DS logon and got me confused. Luckily, these counselors are super responsive so that was miraculous).
Step 2: Find my favorite couple of programs and reach out to them for an Education and Training Plan (ETP).
Some of the programs I reached out to informed me that they no longer partnered with MyCAA (boooooooo). Others didn't know what the Education and Training Plan was which was a bit of a red flag for me that they weren't an institution I wanted to give all of this free money to. Once I finally found the program I wanted to join, I reached out to them for an ETP and they got back to me lickity split!
Step 2.5: Try desperately to remember your password.
Step 2.7: Reset le password.
Step 3: Upload the ETP to the MyCAA Portal.
Step 4: Wait to hear back from a MyCAA counselor!
So that's where I'm at currently. I will return to this post and update once I have ironed out all of the details. If something goes horribly right or wrong, I'll let you know! I really hope I'm able to use this $4,000 of military spouse education money.
Time is ticking, but I think I got the ball rolling soon enough.
1/15/23
I decided to pursue an associates in Music Business! There are a couple fabulous programs to choose from. The $4,000 won't pay for the entire thing, but I'll be able to submit my intent to complete the entire program, and if it's too expensive to finish, I will have at least learned some new things!
5/3/23
Due to sweet baby coming in July, I've decided not to start in the mini summer semester. I found a program at Houston community college that looks superb, though, and plan to come back to this after I've had baby!
8/2/23
Coming back to this MyCAA thing! Going to discuss with Caleb if he thinks this is the right time for me to enroll in a course or two. Glad I didn't do so earlier as we've had a lot on our sleeves with our upcoming PCS (permanent change of station aka our final military move).
Luckily, they extended the program somewhat so I'm still eligible to begin, praise God!
Overall very happy with this program. Let's see if the military pays out.
Please feel free to sign up for my email list if you'd like to receive updates on this (and other) posts.
Godspeed!
Grace
This post may contain affiliate links, which means I receive a commission if you choose to make a purchase through one of my links (at no cost to you). See my disclosure for specifics.