I attended a lovely baby shower for a Catholic mom friend of mine today and was inspired by all of the lovely Catholic gifts given to write a roundup post!
Here are quite a few of my best Catholic baby shower gift ideas.
#1 Catholic Baby Shower Gift: Chews Life Rosaries
First up my favorite and one of the most Catholic baby shower gifts of all: Chews Life Rosaries!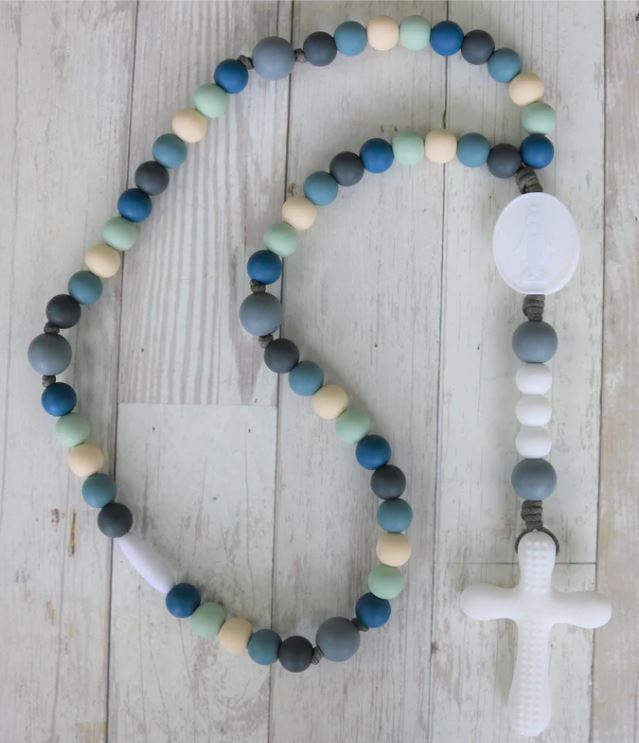 These lovely silicone rosaries are FDA-certified, food-grade silicone and have a lifetime warranty! (Though Abigail has chomped away at them and never broken a single part of hers.)
Abigail loved wearing hers and the size of the silicone beads and cross were perfect for her little mouth and hands when she was in the depths of teething. It's also a beautiful reminder to Catholic moms to be patient with their little ones and ask Our Lady to comfort them through their pain.
Use the discount code "GRACE10" for 10% off your order!
Chews Life has recently branched out into muslin swaddles, lovely women's rosary bracelets, and we also LOVE their Emmaus crib shoes (Abigail has 3 pair).
#2: Catholic Baby Books (Crinkle Books from Be a Heart and Saint Books from Theotokos Kids)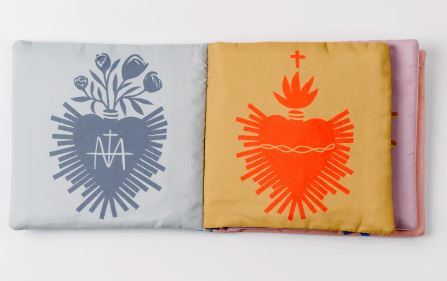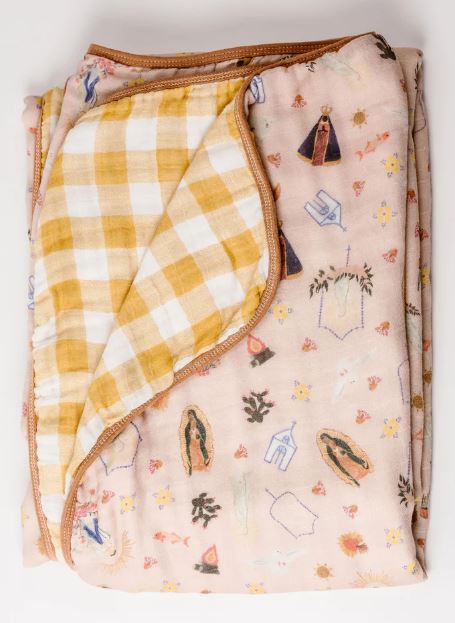 I have ordered quite a few items from Be a Heart Design and have loved them! For Catholic baby shower gifts, I think these crinkle books and their muslin quilt are perfect.
Theotokos Kids has a lovely selection of books about beloved saints such as Saint Thérèse of Lisieux, Saint Gianna Molla, & Bl. Carlo Acutis!
Abigail has the Saint Thérèse of Lisieux book and truly loves pointing to the illustrations and learning the names of the Catholic imagery inside!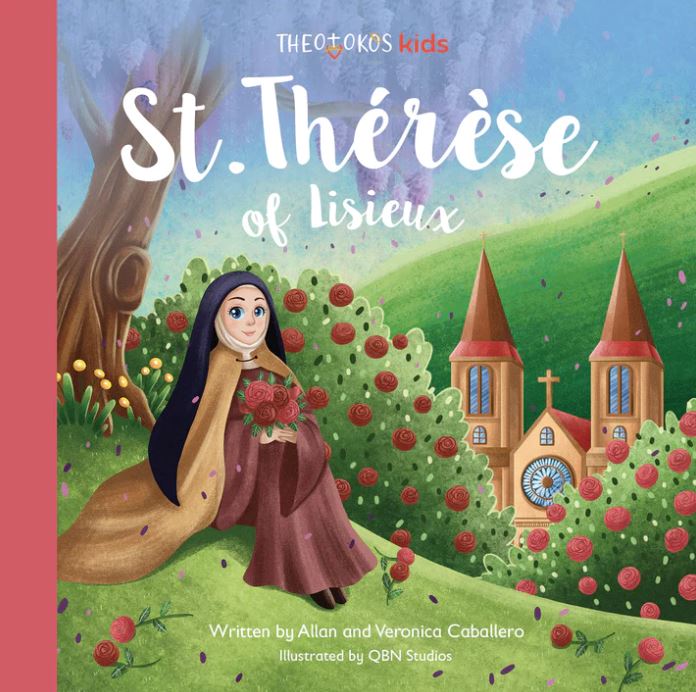 #3: More Catholic Baby Swaddles!
Another Catholic maker who has lovely swaddles is The Little Rose Shop! I've added the "Be Still' Catholic swaddle to my baby shower wishlist for Elizabeth.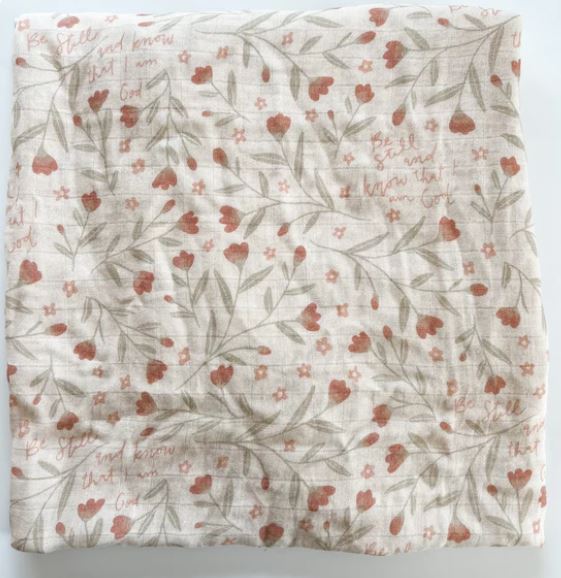 They're made of cotton and bamboo and Scripture designs featured include:
"Be still and know that I am God"
"Let your light shine"
"Precious in His sight"
"Nothing will be impossible for you"
Such simple and beautiful reminders to pray unceasingly for your little one (while you wrangle them into a swaddle at 3 A.M.)
#4: Catholic baby shower gift idea…a saintly onesie like this one from Kidderbug Kreations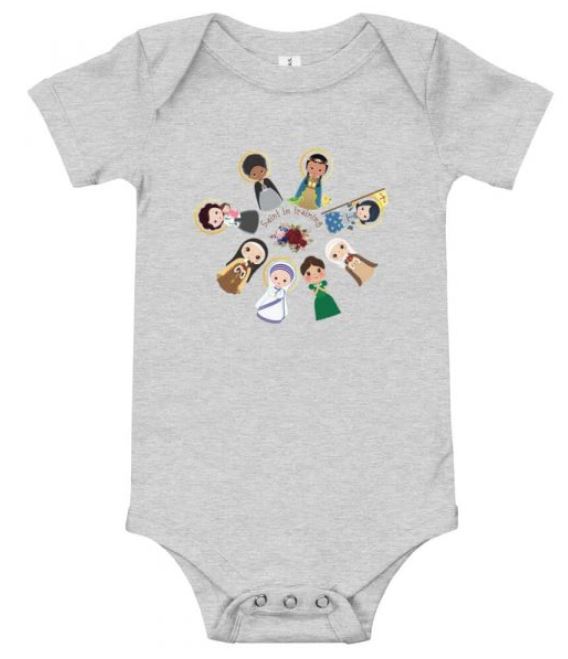 I am SO HERE for saint-themed baby stuff as a shower gift.
You can go with a onesie or dress with literal saints on it, or you could find a themed one from Amazon like roses for Saint Saint Thérèse of Lisieux or lambs for Saint Francis or Saint Agnes! (Bonus points if you theme the onesie with the baby shower baby's name!)
#5: A personalized Catholic Baby shower gift . . . baptismal candle from Regina Candles:

Just look at how gorgeous this candle is (you should seriously peruse this shop if you never have). A baptismal candle is the perfect godparent gift for a Catholic baby shower!
They're made in the USA, are real beeswax, and she offers a 100% money-back guarantee.
#6: give a gift to the pregnant momma as well as the little Catholic baby!
Some of my favorite labor gift ideas include:
These pregnancy prayer bundle prayer cards from Abundance of Grace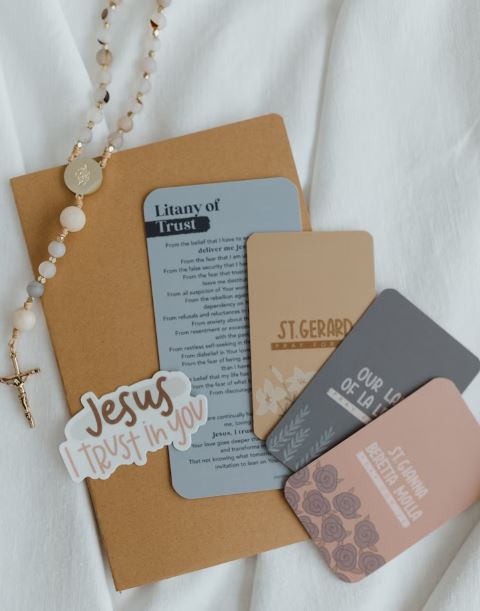 These "Faith Over Fear" Temporary Tattoos from Just Love Prints (which I'll be wearing for this second round of labor and giving birth!):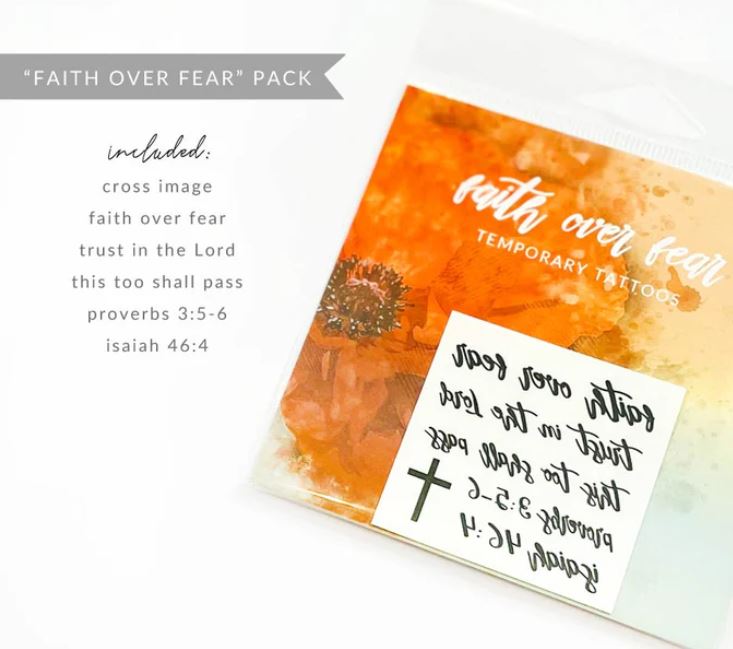 Or perhaps this lovely Marian statue to place in the birth room from House of Joppa: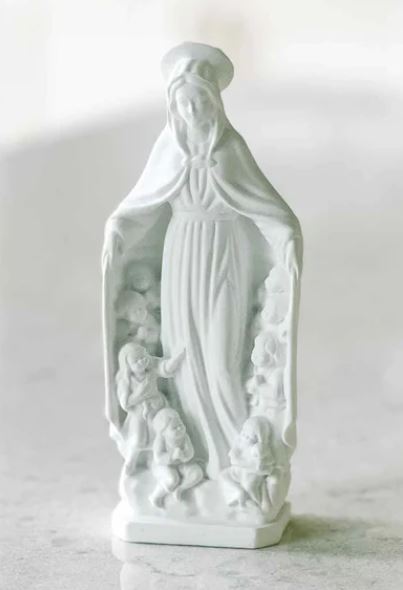 #7: Speed Round! more Catholic baby shower gifts!
These Sweet Plush Pals From Friends Of The Faith Are Super Cute: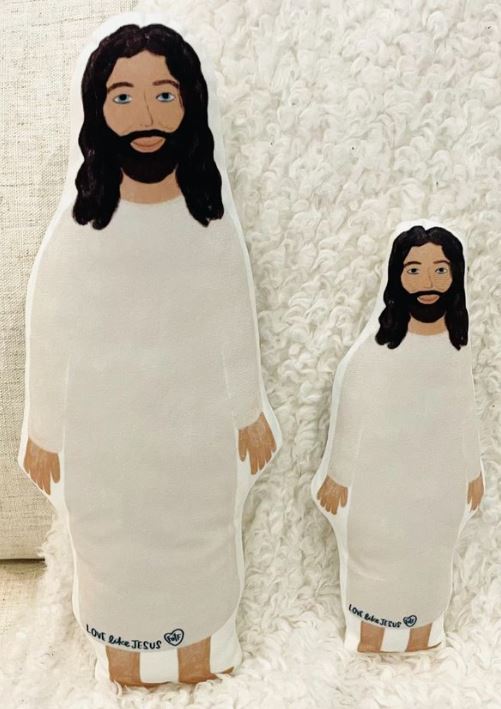 And Shining Light Dolls has a huge selection of saint dolls for babies to snuggle: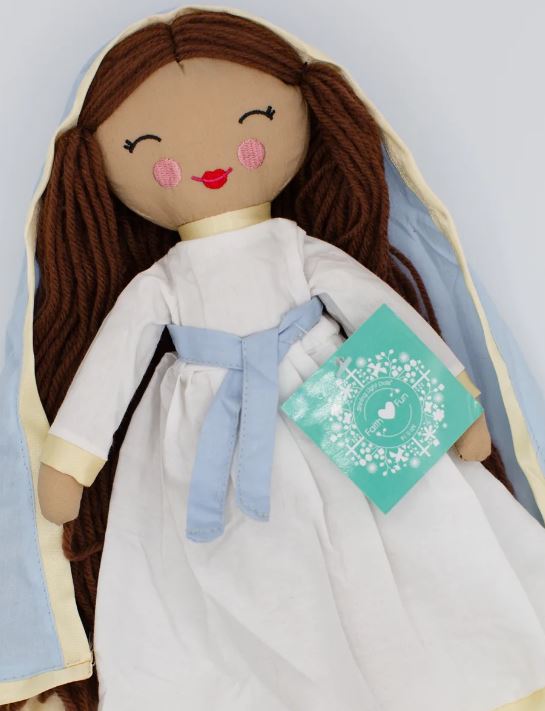 And some precious new Catholic ABC blocks!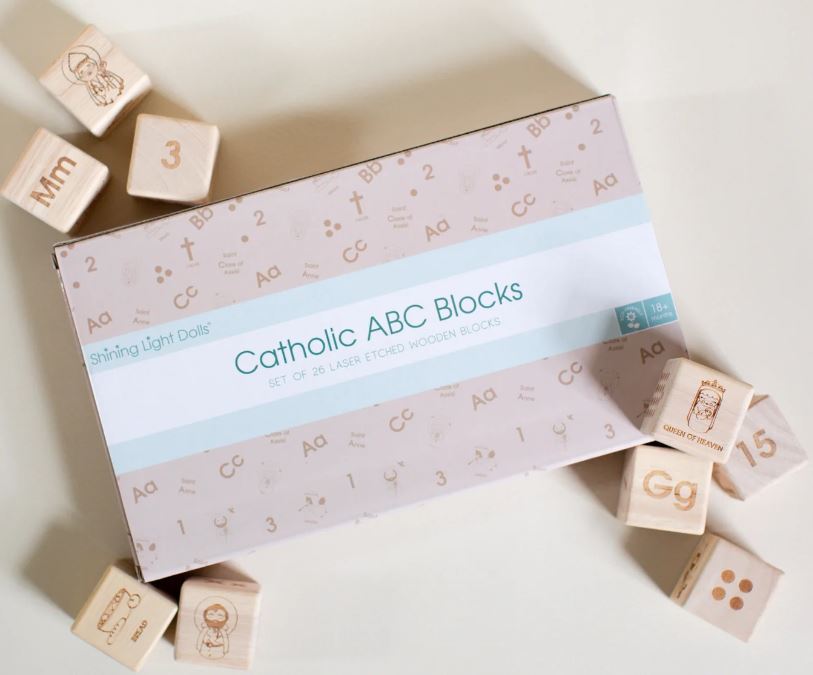 Finally, a couple MORE ideas for Catholic baby shower gifts for the mama: books!
The Womanly Art of Breastfeeding is one of those books I meant to read before giving birth. I had already ordered it and everything! But Abigail came early. So I read it the second night in the hospital while I desperately tried to figure out how breastfeeding works. HIGHLY RECOMMEND for all new moms!
Husband-Coached Childbirth (Fifth Edition): The Bradley Method of Natural Childbirth was super helpful while pregnant and especially for Caleb while I was in labor. We took Bradley Method childbirth classes on our first go-around and learned so much that saved me during my particularly traumatic birth (She Was Born Three Weeks Early! My Bradley Birth Story (Pitocin, Preeclampsia, And Birth Plans Awry).
Finally, here's a lovely book for any woman in your life:
The Interior Castle! Written by Saint Teresa of Avila, this book is a truly fascinating journey into God's indwelling in our souls and his desire to be with us.
This post may contain affiliate links, which means I receive a commission if you choose to make a purchase through one of my links (at no cost to you). See my disclosure for specifics.