The mystery of the Holy Sacrifice of the Mass is a beautiful thing that transcends our human understanding. Acknowledging you are in a sanctuary where the heavens and the earth spiritually join on the daily is some powerful stuff.
God is not indifferent, He chooses to be physically present with us and all we have to do is ask!
Catholics profess that receiving the Eucharist is the source and summit of the faith. Through Jesus's institution of communion at the Last Supper (Matthew 26:26-29), Christians are called to partake in the mystery that is consuming Jesus' Body and Blood with the whole Body of Christ (John 6:53).
God transforms the "substance" of bread and wine into the substance of His Body and Blood– the "accidents" or appearance / experience of bread and wine remaining. This transubstantiation solidifies our faith in Him and His sacrifice for us.
It should not be surprising then, that Catholics are called to humble ourselves by genuflecting before the Lord, prostrating ourselves in His presence. He comes down to our place of exile and death and physically lower our bodies in gratitude and humility.
What is Genuflecting / Genuflection?
The origin of the English word "genuflect" is the Latin "genuflectere". Its first part "genu" means "knee" and "flectere" means "to bend" literally translated: 'to bend the knee.'
We have all seen movies in which knights or servants bow or curtsy to their King. Baptized Christians are in a similar station to these servants as we are children and (therefore) heirs to the Kingdom of God:
"For as many as are led by the Spirit of God, they are the sons of God.
For ye have not received the spirit of bondage again to fear; but ye have received the Spirit of adoption, whereby we cry, Abba, Father.
The Spirit itself beareth witness with our spirit, that we are the children of God:
And if children, then heirs; heirs of God, and joint-heirs with Christ; if so be that we suffer with him, that we may be also glorified together."

(Romans 8:14-17)
Catholics are commanded to love the Lord with all our heart, soul, and mind (Matthew 22:37). The action of genuflecting is a physical manifestation of that devotion and servitude to the will of God and the physical presence of Jesus in the Eucharist.
Whenever the consecrated Host is present on the altar or in the tabernacle, it is customary that a lit candle is placed or hung nearby. This candle indicates that Christ is physically present in the sanctuary.
Whenever you see that lit candle, it's your signal to genuflect–acknowledging the physical, True Presence of Jesus Christ's Body!
When and How Do Catholics Genuflect?
First, you must know if the consecrated host is present: if you have walked into a parish with the reserved sacrament (often indicated with a candle), an adoration chapel, or the Host has just been consecrated during the Holy Sacrifice of the Mass. Any time you enter or exit a pew or approach/leave the altar, the faithful who are physically able will touch their right knee gently to the ground. Often, people will also cross themselves when they genuflect.
Remember, Catholics bend the knee toward Jesus present with us on earth out of humility, respect, and love. Unless you're seriously incapacitated, try to genuflect slowly and intentionally.
Whenever the consecrated host is not present (in the tabernacle or on the altar), it is customary to give a bow from the waist toward the altar. The altar is a symbol of Jesus and His sacrifice, but it is not Him physically present so Catholics do not need to genuflect.
*Mini Genuflecting Rant Time*
Nowadays, many Catholics who receive the Eucharist do not genuflect when they get out of the pew. It seems like people are more reverent to the True Presence of Jesus when the Host is still in the tabernacle before Mass begins. I suppose it is because people feel rushed to form the line in the middle aisle approaching the altar to receive (a line which is a hullabaloo of all kinds of irreverent practices, but I'll save that discussion for another time).
In my opinion, Catholics should always genuflect in the presence of our Lord especially when we are approaching Him (as any good knight would do for his King).
There is also a "double genuflection." When the consecrated Host is exposed in a monstrance.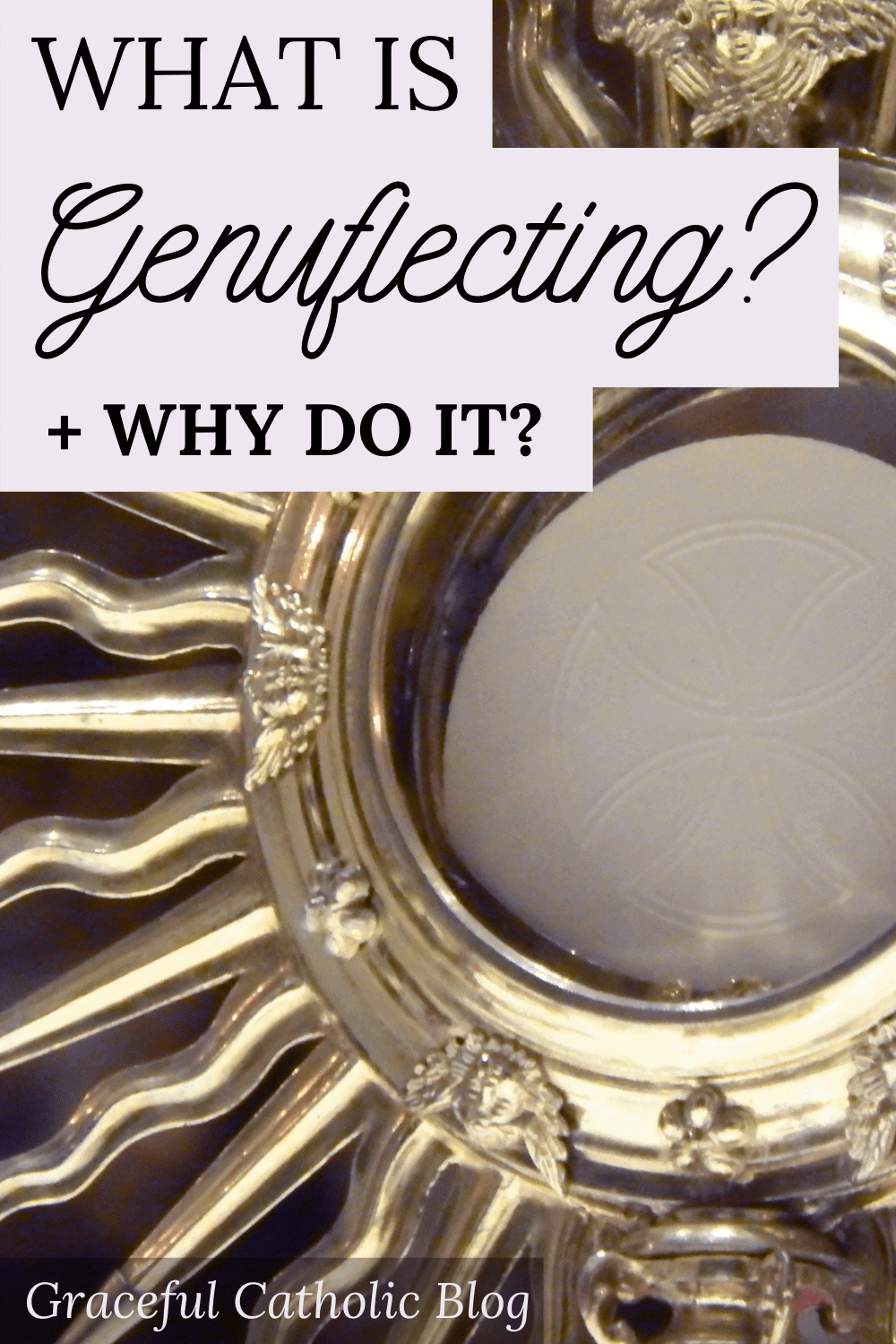 To double genuflect, a person kneels on the ground and bows toward Jesus whenever entering or exiting a pew. It is also traditional to not turn your back on the exposed sacrament.
Think about it this way: if Jesus descended from Heaven and was sitting enthroned in your parish's sanctuary where the altar used to be, would you simply wander up to the pew and pray?
NO! You'd probably run up to him and throw yourself at His feet. Adoration of the Blessed Sacrament should be treated the same way. It's literally the Body of Christ after all.
No need to feel awkward or uncomfortable. If someone is judging you for double genuflecting in the presence of Jesus, it is they who have the problem.
We Catholics need to think more about what's going on in front of us. And not think so much about traffic patterns and if I'm going to 'hold up' the people behind me.
Final Thoughts: Is it necessary?
When a Catholic (in a state of grace) goes to the Holy Sacrifice of the Mass, they want to adore and receive Jesus Christ in the Eucharist. What better way to illustrate to God our faith and love than by acting upon it?
Lex orandi, lex credendi is a Latin phrase that, loosely translated, means "the law of prayer [is] the law of belief" [1]. What Catholics physically do (in thought, word, and deed) signifies our belief.
Followers of Christ are called to adore God and in physically prostrating ourselves before His Body and Blood, we acknowledge His amazing power and our willing obedience to His will.
I hope this post has shed some light upon why and how Catholics genuflect.
Resources:
[1] United States Conference of Catholic Bishops ; Lex Orandi, Lex Credendi: The Word of God in the Celebration of the Sacraments
[2] Ascension Presents; "3 Reasons Catholics Genuflect"
This post may contain affiliate links, which means I receive a commission if you choose to make a purchase through one of my links (at no cost to you). See my disclosure for specifics.