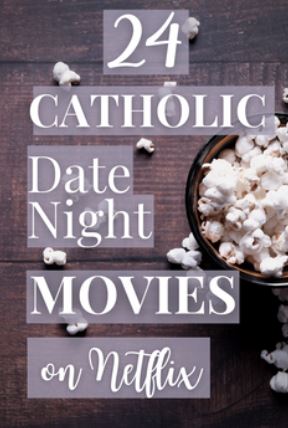 It's date night and you're searching for a movie. The scroll through Netflix feels endless (you're pretty sure this is what purgatory is like) and you haven't seen a single movie that y'all—a Catholic couple trying to enjoy your one movie date night a week—would both enjoy watching.
You scroll past the politically charged movies and the ones produced by the lead actor so she could finally have a starting role.
"This movie looks interesting for date night" you comment as you click on the millionth description of a movie. It says something about the raunchy coming of age of a young girl and you decide it's a hard pass. (Or at least I would.)
So what is a Catholic couple to do endlessly scrolling through Netflix to find a decent movie for date night?
Never fear! I've compiled a list of entertaining (mostly clean) date night movies just for you!
Catholic Date Night Movie List on Netflix
[On Netflix as of Septemeber 2021 . . . if it's not there, it's probably on Prime!] Let's start with the genre my husband and I can generally always agree on:
Comedy Movies for Catholic Date Night
Starring a young Leonardo DiCaprio and Tom Hanks, this movie tells the story of a fast-paced swindler chase. There's quippy jokes, cool forgery stuff, and just plain good acting from the leading lads.
Eurovision Song Contest: The Story of Fire Saga
This movie was SUCH a pleasant surprise! I honestly think it's the perfect Catholic date night movie. It's got Rachel McAdams and Will Ferrell (yes, you heard those two names right). It has super funny (and kinda catchy) music. And DAN STEVENS!! What more could you ask for?
But seriously though, this movie was equal parts hilarious and heart-warming and will get you Googling about Iceland and elves in no time. (Warning: there are some absurd phallus-bearing statues shown in the movie.)
Monty Python and the Holy Grail
Classic comedic gold. Catholics everywhere rejoice: this movie even has a (semi)religious theme! It's basically a series of strange medieval vignettes with British improv actors…what's not to love? (Warning: the story of Sir Galahad is very suggestive but nothing unseemly ever happens.)
Talladega Nights: The Ballad of Ricky Bobby
Yes Man
Legally Blonde
These three movies are just plain funny—mostly because of their talented leads. I know Jim Carrey isn't everyone's cup of tea, but I don't think he's unbearable in 'Yes Man.' Reese Witherspoon is a doll and the plot of 'Legally Blonde' is simple and cute (and there's a musical for it!!)
I'm a musical theatre nerd so bear with me. This professional recording of the live musical is actually just as funny as (or funnier than) the original Shrek movie. I will always suggest musicals for date night. I can't be stopped. You should absolutely watch this.
This was a surprisingly cute and clever movie. Sherlock Holmes, a not over-played young romance, happy ending: great for date night.
Cloudy With a Chance of Meatballs
Rango
These are two of the most 'adult' animated films on Netflix right now. And I find these comedies absolutely knee-slappingly funny. If you want your Catholic date night movies filled with silly, well-timed humor—these are the movies for you.
If comedies aren't really your Catholic movie night go-to, I gotcha covered!
A Couple Dramatic Movies for Catholic Movie Night
•Fatima
How could I leave this so wonderfully Catholic movie off my list of Catholic date night movies?? Fatima is beautifully made and is an excellent primer for folks wanting to learn about the appearance of Our Lady of Fatima to three Portuguese children in the early 1900s. It's not entirely historically accurate, but I think it gracefully tells the story of the visions and the town's reaction. Definitely worth a watch if you're looking for more of a serious movie!
•The Prince of Egypt
Another excellent film with an entirely Christian story. The Prince of Egypt is an animated movie from Dreamworks all about the Exodus account. The music is SUBLIME (I mean, it's Hans Zimmer y'all!) and the plot is very well-paced for an animated film.
•Rebecca
A dramatic movie based off the classic novel of the same name, this adaptation stars Lily James who is one of my favorite modern actresses! Solid plot, acting, and execution! It's got a great twisted love story, too (we're Catholics: date night (and life) doesn't always have to have a happy ending).
•Watership Down
This technically isn't a movie. It's a mini series. But I thought it was super cute and such an original idea. I've never read the book, so I can't speak to how well this animated portrayal follows it, but as a stand-alone piece, I was thoroughly entertained by this bunny movie.
More DiCaprio!! This Christopher Nolan movie is well-known for being kind of a mindwarp. It's absolutely confuzzling (in a good way!) Definitely a lot of action and a dramatic love story—a brilliant choice for movie night I could watch again and again (no, not just because of my boy Leo D).
Classic Movies and Romances
The Guernsey Literary and Potato Peel Pie Society
Super cute, period movie based on a lovely book. Stars Lily James! Definitely not as mind blowing as inception, but a solid Catholic date night pick nonetheless.
What's Eating Gilbert Grape
Young Leonardo DiCaprio. He was so teeny!
My Fair Lady
Les Miserables
These three musicals are claaaaaaassics. Seriously. Try watching any of these musicals without getting the music stuck in your head—I dare you. Like I said before, I will always suggest musicals for date nights because I think they're good for the soul. Everyone needs a little self-expression in musical form from time to time. And Hugh Jackman. Everyone needs their monthly dose of Hugh Jackman.
In all seriousness, My Fair Lady is one of my favorite musicals of all time, it's super wholesome and happy, and has some BANGERS ('Wouldn't It Be Loverly,' 'On the Street Where You Live,' 'I Could've Danced All Night.' GAAH!!)
Finally, here are a couple of more ~violent~ options if you're into that sort of thing.
Pretty Violent (Yet Still Entertaining Enough for Movie Night)
The Ballad of Buster Scruggs
Super depressing and quite a bit of Wild West violence—this movie is six nonlinear western vignettes. It's EXCELLENT, but there's a lot of blood. Just make sure you're in the mood to get sad 'cause the majority of the stories are extremely bleary.
D'Jango Unchained
The Hateful Eight
A couple of Quentin Tarantino that I think have plots that make up for the abundant gore. The former is kind of a commentary on slavery and society (and stars my man, Leonardo. I genuinely did not mean to put him on this list so many times, but who's complaining? He's date night fuel.)
The latter is more fanciful (and bloody) but still brilliant. If you're a sensitive soul (like me) when it comes to movies, you can always Google the parental guide before watching to blunt the blow of some of the more shocking violence.
So there you have it, folks!! A list of 23 movies on Netflix RIGHT NOW that are perfect for your Catholic date night enjoyment! Or movie night with your friends (or just you!)
I encourage you to try a musical on this list—they're lovely and appeal to a wide audience (which is why Netflix streams them in the first place).
Godspeed in your movie-picking journey! Let me know if I've missed any movies that are perfect for date night in the comments!
This post may contain affiliate links, which means I receive a commission if you choose to make a purchase through one of my links (at no cost to you). See my disclosure for specifics.