Here's my personal treasure trove of enlightening and inspiring Catholic podcasts specifically curated for Catholic women. Whether you're seeking spiritual guidance, marriage and family insights, or thought-provoking conversations, I'm positive this roundup of top Catholic podcasts will captivate your heart and mind. Join me on this quick journey through the world of Catholic podcasting, where you'll find the perfect blend of wisdom, encouragement, and faith-filled discussions.
1. Pints With Aquinas (Matt Fradd; Catholic Podcaster Extraordinaire)
One of the biggest and best Catholic podcasts out there–and I'm pretty sure I'm one of the oldest fans! 
I've listened to Pints With Aquinas since before it was cool. Five years ago, I frequently drove back and forth five hours from College Station to Kingsville to see my new husband (we lived apart for the first 6 months of our marriage–do not recommend).
This show was exactly what I needed at that time as a newlywed and new convert. Matt and Father Pine taught me about the faith and gave me insights into the mind of a man (a venture I am still embarking upon daily!!)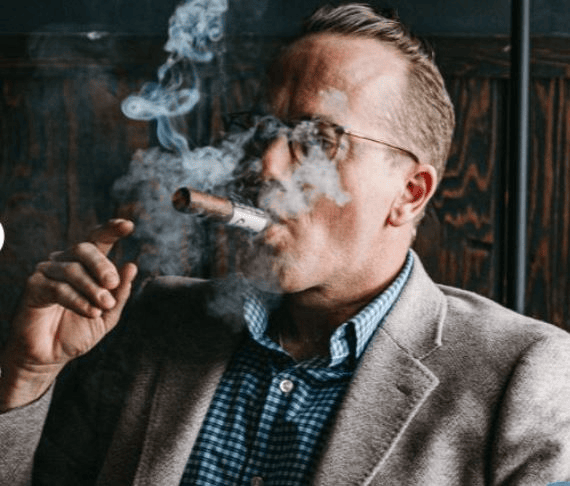 As a convert, I didn't grow up hearing about the Sacraments or the fullness of the faith. Hearing these passionate and faithful men discussing philosophy, the saints, and other topics way above my intellectual level was (and still is) fascinating and inspiring.
Nowadays, I still tune in on long trips in the car to the long-form conversations Matt holds with his esteemed (and unknown-to-me) guests.
Some of my favorite episodes of this thoroughly Catholic podcast include:
Fr. Mike Schmitz | The Matt Fradd Show Ep. 12
How to be the Spiritual Leader of Your Family w/ Dr. Scott Hahn | Pints with Aquinas Episode #206
What Does a Bad Pope Mean for the Church? W/ Joe Heschmeyer | Pints with Aquinas Episode #229
Why More Young Catholics are Identifying as "Traditional" w/ Brian Holdsworth
Interview with an Exorcist (Fr Vincent Lampert)
The Revival of Classical Education w/ Headmaster Luke Culley
An Interview with Fr. Donald Calloway
A Critique of Feminism w/ Dr Abigail Favale
Transgenderism is the Fruit of Sexual Revolution w/ Dr. Jennifer Morse
How to Build a Memory Palace! w/ Dr. Kevin Vost
TikTok, Dating Advice, and The Latin Mass w/ Amber Rose (@TheReligiousHippie)
Motherhood, Fatherhood, and Raising Children w/ Emily Wilson Hussem
Ask a Catholic Therapist: Parenting, Boundaries, and, Healing
Dating, Marriage, and Sex Advice (Valentine's Day Special) w/ Cameron Fradd
Getting Canceled w/ Laura Horn
Seriously, Pints With Aquinas is the best Catholic podcast out there for men and women hands down. Matt invites incredible guests on the show and asks all of the right questions. I'm confident in about 20-30 years I am going to have to go back through this blog post and add "Saint" in front of most of these guests' names.
2. Catholic Moms Made for Greatness
While I've been a fan of Pints With Aquinas for years, I have only been listening to the Made For Greatness Catholic podcast since January of this year. Sterling and Lorissa have a way of consoling my fears and monkey brain that is often exactly what the doctor ordered. They are moms who have so much more life experience than I do, and they have the gift of counsel (especially when it comes to talking me down from my mom-exhaustion self doubt spirals).
If you've never heard of it, their podcast is a part of the Made for Greatness ministry which is a community specifically for Catholic mothers. It features weekly life coaching calls, hundreds of hours of resources and workshops available online, and an active Slack group.
When I was struggling as a wife and mother (now I'm only struggling occasionally), finding this Catholic podcast was a welcome relief from the noise of the bustling and confusing world.
Sterling also hosts a business podcast Catholic Moms Made for Business that I ADORE. I love continued learning (I taught myself everything I know about marketing and social media after college by listening to business podcasts).
Sterling's Catholic business podcast is special. Healthy boundaries are discussed–not manifesting and grinding. Marketing like an evangelist–not like a stinky scare-tactics menace. She encourages charity and selflessness as a means to success. Of all the Catholic podcast hosts I would love to meet in person, Sterling is at the top of my list!
3. The Catholic Woman Podcast (Marie Hanson; Catholic Podcaster and Mom!)
My lovely friend, Marie, runs this podcast which has a short history but some powerhouse guests (plus in an upcoming episode with somebody run-of-the-mill . . . me!)
Abby Johnson comes on to discuss abortion. Leila Lawler (one of my favorite Catholic authors) discusses cultivating a holy and Catholic home. In our upcoming episode, we discuss everything we wish we'd been told about postpartum recovery and life!
It's a truly Catholic podcast through and through and I'm looking forward to hearing what Marie has planned for the future!
4. Beloved and Blessed (Kimberly Hahn)
This Catholic podcast is truly bingeworthy. For anybody confused about what the Catholic Church intends for a holy marriage, this is the podcast I share.
Kimberly and Scott Hahn will be canonized saints one day, guaranteed.
I particularly enjoy the Q&A portion at the end of episodes where she takes viewer questions. Similar to Sterling's demeanor, everything about Kimberly as a host is a calming, motherly presence.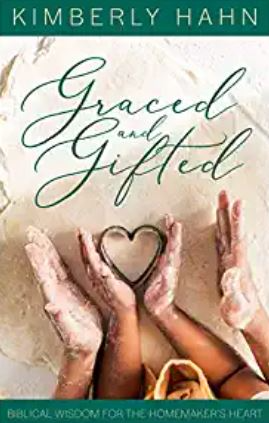 Some of my favorite episodes include:
God's Design for Marital Intimacy
Characteristics of a Godly Woman
Business Principles for the Savvy Homemaker
How Do We Learn the Skills of Homemaking?
Cleaning House
Her book, Graced and Gifted, was given to me and alongside Lelia Lawler's Summa Domestica is the perfect handbook for becoming a selfless and submissive (in the BEST way—don't be a grump) Catholic wife.
5. The catholic Mama
If you're feeling spicy and controversial, this is the Catholic podcast for you. Christine is intelligent and asks the PERFECT questions of her guests.
She discusses some of the tougher stuff faithfully and charitably including medical sovereinty, radical feminism, and quite a few crazy cultural things.
A similar podcast that just started up is called According to Bridget. I feel like Christine and Bridget could be friends and take over the world together. And convert everybody to Catholicism with a smile and solid argument.
6. Double Catholic Podcasters: Jackie and Bobby Angel & Father Mike Schmitz on Ascension Presents
Ascension is pretty much the king of Catholic content. Father Mike Schmitz has become a household name for many Catholics since the release of his incredibly popular "Bible in a Year" podcast (which is amazing, but I'll admit–I did not do a great job of listening for the entire year!!)
I love watching Jackie and Bobby on Ascension's YouTube for their excellent marriage advice. It's also lovely to simply watch a joy-filled married couple communicate and discuss tough theological questions.
Father Mike tackles controversy with CHARITY. He is everything I hope and pray Catholic priests will work toward becoming–peaceful, intelligent, and steeped in the traditions of the Church.
7. Brian Holdsworth: a Canadian Catholic Podcaster
Speaking of charity, this Canadian hosts a Catholic podcast on YouTube that makes some strong and solid theological arguments.
Another excellent example of an intelligent and faithful Catholic who charitably calls the Catholic laypeople and priests to greater self-reflection and devotion to God.
Some of my favorites include:
Why is Modern Art So Bad?
We Need Better Music For Mass
The Power of Modest Clothing
8. The Counsel of Trent (a SUPER Smarty-pants Catholic Podcast)
If you're in the mood to LEARN and get good at apologetics, Trent Horn is your guy. The man is this century's  Saint Thomas Aquinas. He has never lost a debate (I'm pretty sure). He is the most interesting Catholic in the world.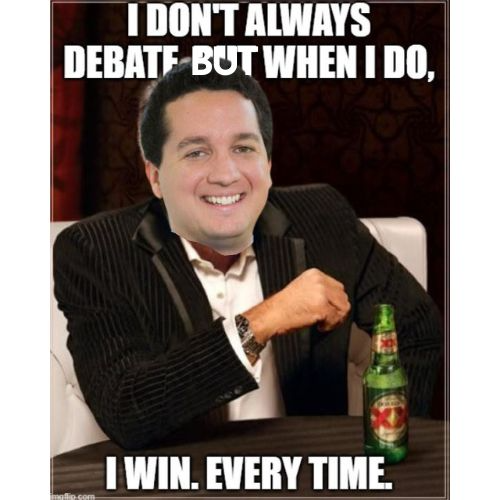 But in all seriousness, he has a lovely phlegmatic temperament which causes his dad jokes to come off even more cringey than your average dad joke.
He has a BEAUTIFUL sanguine wife, Laura, who recently started a hilarious YouTube channel (Too Far with Laura Horn).
In case you didn't notice (it took me, like 4 years) even the name of the podcast is a pun. The Council of Trent being the 16th century ecumenical council of the Catholic Church. The Counsel of Trent a pun about the fact that he is about to lay down some SERIOUS apologetic wisdom.
9. Called and Caffeinated
Finally, Stacey Sumereau's Catholic podcast: Called and Caffeinated is one that is personally special to me. Like myself, she had dreams of performing on Broadway. Unlike myself, she actually performed on national tours!
Stacey is a lovely Catholic mother who brings on podcast guests from various vocations and asks them all this question: "What calls have you received from God in your life so far? And what has receiving those calls looked and felt like?"
Boom. FASCINATING conversations.
I binge-listened to this podcast while we were stationed in Virginia and I was super miserable and lonely due to Covid and being a military newlywed with no friends.
The podcast seems to be on a hiatus at the moment, but there are PLENTY of episodes to listen to and learn from. The moral of the story I take from basically every one is: discernment doesn't take as long as you think . . . usually God will let you know what's up.
10. BONUS! My Podcast: Harp & Lyre
Harp & Lyre is a podcast Caleb and I started that has TWO episodes out already (it's slow going haha!)
It is a Catholic music and marriage podcast on which we solve* the Catholic music crisis and share our experiences as a young married couple.
*we do our best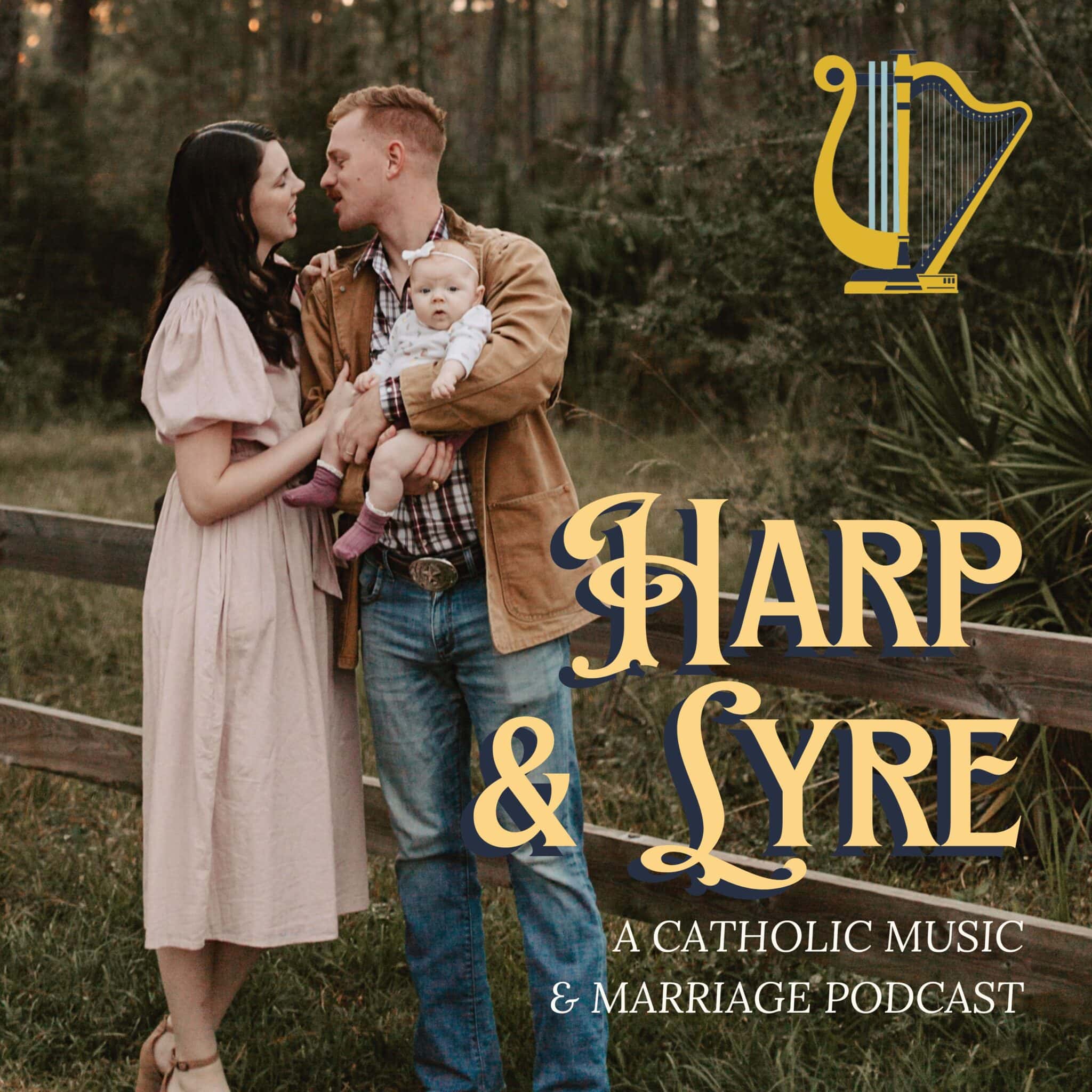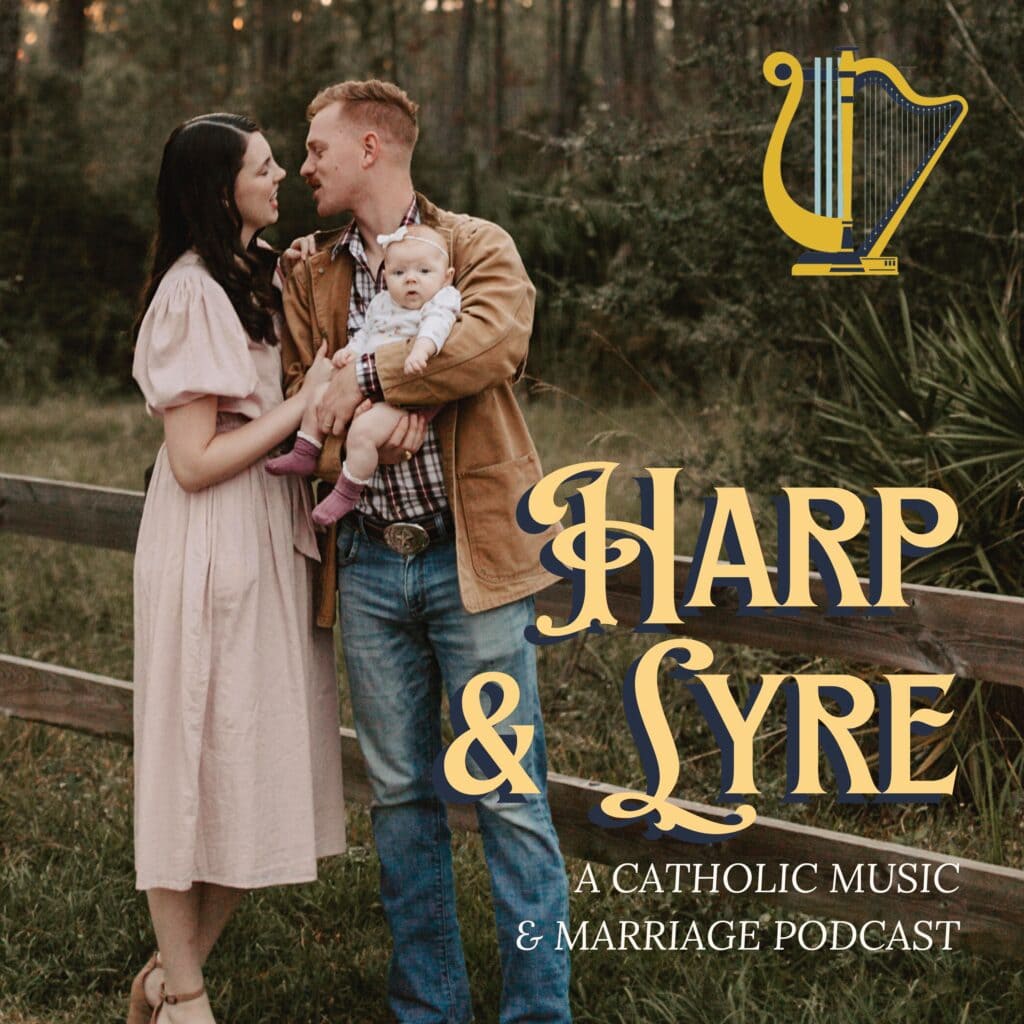 It's true that there are, like, a million podcasts out there.
BUT UNTIL NOW there hasn't been a podcast discussing the Catholic music scene (*ahem* crisis) AND how to have a healthy and fun married life . . .  so we're innovative, ya know?
So far, we have an episode about our favorite Catholic musicians: The Hillbilly Thomists and one all about why we should return Catholic choirs to the loft. Here's the website I designed if you'd like to follow along: https://harpandlyre.co/
Here Endeth the Catholic Podcasts Roundup!
Go and listen to one of these podcasts you've never heard before–I assure you, you'll be delighted and inspired. Let me know in the comments which of these Catholic podcasts are your favorites, and which Catholic podcasts or YouTube channels I'm missing!
This post may contain affiliate links, which means I receive a commission if you choose to make a purchase through one of my links (at no cost to you). See my disclosure for specifics.