"[34] And Simeon blessed them, and said to Mary his mother: Behold this child is set for the fall, and for the resurrection of many in Israel, and for a sign which shall be contradicted; [35] And thy own soul a sword shall pierce, that, out of many hearts, thoughts may be revealed."
""For the fall": Christ came for the salvation of all men; but here Simeon prophesies what would come to pass, that many through their own wilful blindness and obstinacy would not believe in Christ, nor receive his doctrine, which therefore would be ruin to them: but to others a resurrection, by their believing in him, and obeying his commandments."
Catholic Devotion for September: Our Lady of Sorrows
The Catholic Church dedicates the month of September to Our Lady of Sorrows. The joys and sorrows of Our Lady are incredible–it does us good to meditate upon them. In fact, in Saint Bridget of Sweden's visions of Our Lady, Mary herself asks us to contemplate her sorrows!
My eyes were full of tears when I contemplated the places in my Son's body
destined for the nails as well as his future passion, and when I saw all the
prophesies I had heard foretold by the prophets being fulfilled in him. And now I
look around at everyone who is in the world to see if there happens to be some who
might have compassion on me and be mindful of my sorrow, but I find very few who
think about my sorrow and tribulation.

This is why, my daughter, although I am forgotten and neglected by many people, you must not forget me! Look at my struggles and imitate them as far as you can! Contemplate my sorrow and tears and be sorry that the friends of God are so few.

(Revelations Book 2; Chapter 24) [1]
Unite Our Suffering With Our Lady of Sorrows
Before sharing some ways to unite our sufferings with our Lady's suffering, let me share the seven sorrows of Our Lady:
The First Sword of Sorrow: Simeon announces the suffering destiny of Jesus (Luke 2:34-35)
The Second Sword of Sorrow: Mary escapes into Egypt with Jesus and Joseph (Matt 2:13-15)
The Third Sword of Sorrow: Mary seeks Jesus lost in Jerusalem (Luke 2:41-51)
The Fourth Sword of Sorrow: Mary meets Jesus as He carries His Cross to Calvary (cf. Luke 23:26-31)
The Fifth Sword of Sorrow: Mary stands near the Cross of her Son Jesus (John 19:25-27)
The Sixth Sword of Sorrow: Mary receives into her arms the body of Jesus taken down from the Cross (cf. John 19:38)
The Seventh Sword of Sorrow: Mary helps place the body of Jesus in the tomb (cf. John 19:39-42) [2]
Why Meditate Upon the Seven Sorrows of Mary?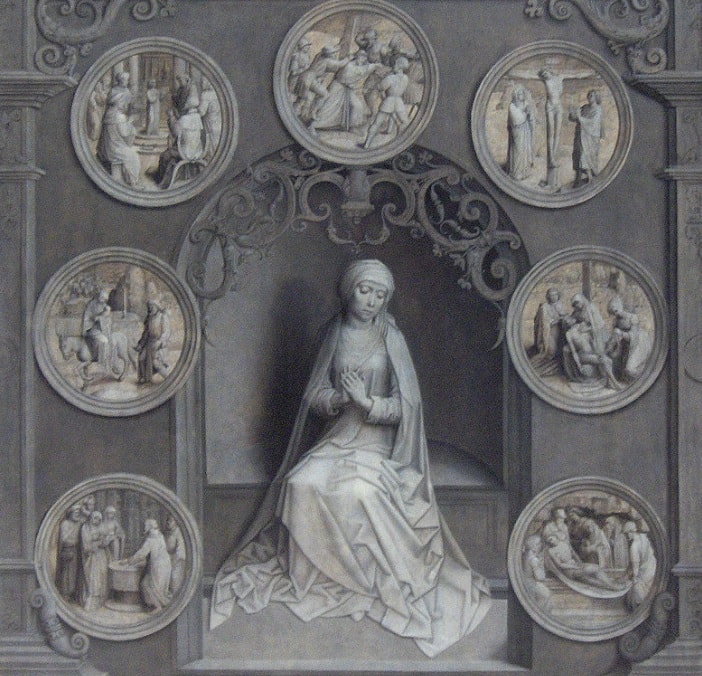 "The purpose of the Devotion of the Seven Sorrows is to promote union with the sufferings of Christ through union with the special suffering that Our Lady endured because she was the Mother of God. By uniting ourselves with both the Passion of Christ and His holy Mother, we enter into Jesus' Heart and honor Him greatly; He is more honored because we have so honored His Mother.
The Seven Dolors are taken from Scripture events and the devotion has a long history, although it was not officially promulgated by the Church until the early nineteenth century. Before Pope Pius VII's formal approval, the Servite Order had permission in 1668 to celebrate the Feast of the Seven Dolors because the Order was instrumental in popularizing the Seven Sorrows Devotion." [3]
Four Graces to those devoted to Our Lady's Sorrows
"According to St. Alphonsus de Liguori in his book The Glories of Mary, it was revealed to Saint Elizabeth at the request of Our Lady, that Our Lord promised four principal graces to those devoted to Her Sorrows:
1) That those who before death invoke the divine Mother in the name of Her Sorrows will obtain true repentance of all their sins;
2) That He will protect all who have this devotion in their tribulations, and will protect them especially at the hour of death;
3) That He will impress on their minds the remembrance of His Passion;
4) That He will place such devout servants in Mother Mary's hands to do with them as She wishes and to obtain for them all the graces She desires." [4]
To obey Our Lady, consider adopting some of these disciplines in honor of Our Lady of Sorrows:
Listen to the Stabat Mater daily.
I recorded the Stabat Mater in English and added the 14 stations of the cross associated with each verse if you'd like to meditate upon the Seven Sorrows of Our Lady through music. The Stabat Mater is considered to have been written by Saint Bonaventure.

At the Cross her station keeping,
stood the mournful Mother weeping,
close to her Son to the last.
2. Through her heart, His sorrow sharing,
all His bitter anguish bearing,
now at length the sword has passed.
3. O how sad and sore distressed
was that Mother, highly blest,
of the sole-begotten One.
4. Christ above in torment hangs,
she beneath beholds the pangs
of her dying glorious Son.
5. Is there one who would not weep,
whelmed in miseries so deep,
Christ's dear Mother to behold?
6. Can the human heart refrain
from partaking in her pain,
in that Mother's pain untold?
7. O thou Mother! fount of love!
Touch my spirit from above,
make my heart with thine accord:
8. Make me feel as thou hast felt;
make my soul to glow and melt
with the love of Christ my Lord.
9. Holy Mother! pierce me through,
in my heart each wound renew
of my Savior crucified:
10. Let me share with thee His pain,
who for all my sins was slain,
who for me in torments died.
11. Let me mingle tears with thee,
mourning Him who mourned for me,
all the days that I may live:
12. By the Cross with thee to stay,
there with thee to weep and pray,
is all I ask of thee to give.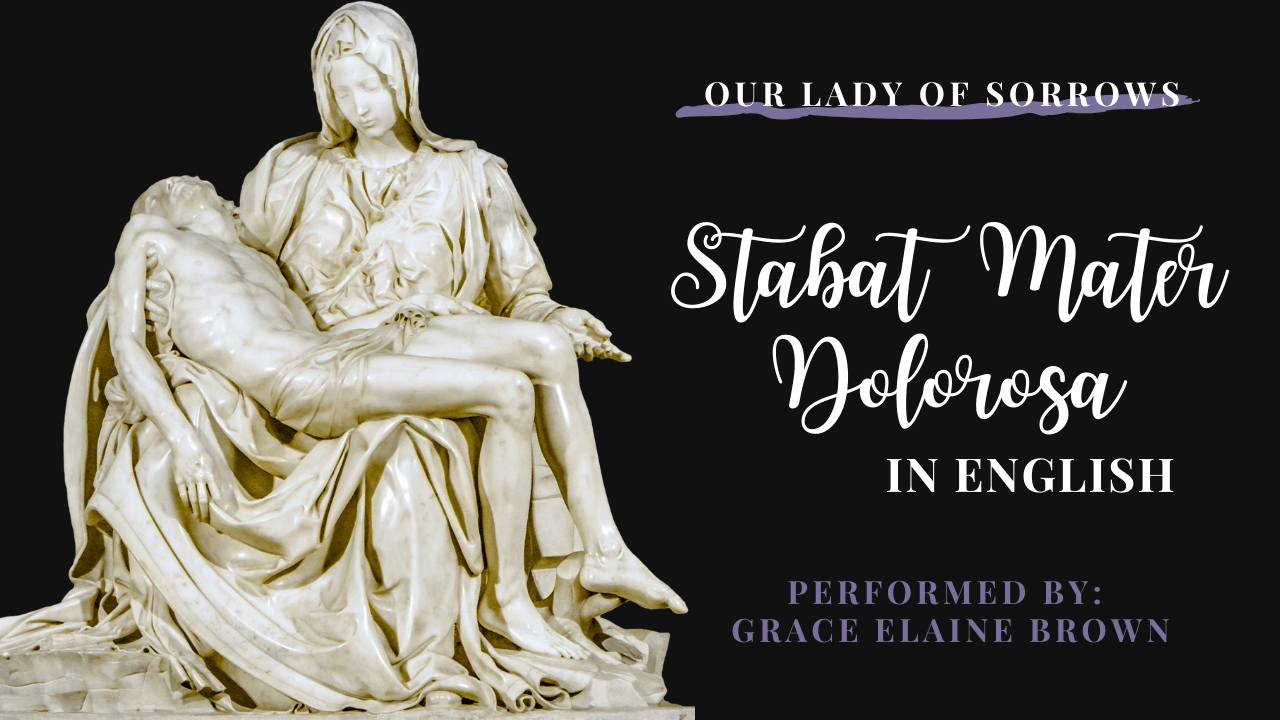 13. Let me, to my latest breath,
in my body bear the death
of that dying Son of thine.
14. Christ, when Thou shalt call me hence,
be Thy Mother my defense,
be Thy Cross my victory.
Pray the Servite Rosary of the Seven Sorrows
Kendra @ Catholic All Year has a lovely PDF printable of these prayers devoted to Our Lady of Sorrows for only $1!
She also created this Our Lady of Sorrows Scripture Activity Booklet which is such a fantastic liturgical living idea to do with kids! Basically, you meditate as a family on each of the seven sorrows of Our Lady while eating sour candies and trying not to make a sour face.
Meditate on the pains of Christ's crucifixion.
Read Saint Bridget of Sweden's vision of Mary sharing what she saw at the Passion (Revelations Book 1; Chapter 10) [1]
"When I gave birth to him, it was also without any pain or sin, just as I had
conceived him, but with such exaltation and joy of soul and body that my feet did
not feel the ground where they had been standing because of this indescribable joy!
Just as he had entered my limbs to the joy of all my soul, he left my body, leaving my
virginity intact, and my soul and whole body in a state of indescribable joy and
jubilation.

When I gazed upon and contemplated his beauty, joy seeped through my soul
like dewdrops and I knew myself to be unworthy of such a son. But when I
considered the places where (as I had learned from the predictions of the prophets)
nails would be pierced through his hands and feet at the crucifixion, my eyes filled
with tears and my heart was almost torn apart by sorrow.

When my Son saw my weeping eyes, he became almost deathly saddened. However, when I considered his divine power, I was consoled again in knowing that
this was what he wanted and that it should happen in this way, and I joined all my
will to his. So my joy was always mixed with sorrow."
Pray the Litany of Our Lady of Seven Sorrows
Written by Pope Pius VII
V. Lord, have mercy on us.
R. Christ, have mercy on us.
V. Lord, have mercy on us. Christ, hear us.
R. Christ, graciously hear us.

God, the Father of heaven, have mercy on us.
God the Son, Redeemer of the world, have mercy on us.
God the Holy Spirit, have mercy on us.

Holy Mary, Mother of God, pray for us.
Holy Virgin of virgins, pray for us.
Mother of the Crucified, [etc.]
Sorrowful Mother
Mournful Mother
Sighing Mother
Afflicted Mother
Forsaken Mother
Desolate Mother
Mother most sad
Mother set around with anguish
Mother overwhelmed by grief
Mother transfixed by a sword
Mother crucified in your heart
Mother bereaved of your Son
Sighing Dove
Mother of Sorrows
Fount of tears
Sea of bitterness
Field of tribulation
Mass of suffering
Mirror of patience
Rock of constancy
Remedy in perplexity
Joy of the afflicted
Ark of the desolate
Refuge of the abandoned
Shield of the oppressed
Conqueror of the incredulous
Solace of the wretched
Medicine of the sick
Help of the faint
Strength of the weak
Protectress of those who fight
Haven of the shipwrecked
Calmer of tempests
Companion of the sorrowful
Retreat of those who groan
Terror of the treacherous
Standard-bearer of the Martyrs
Treasure of the Faithful
Light of Confessors
Pearl of Virgins
Comfort of Widows
Joy of all Saints
Queen of your Servants
Holy Mary, who alone are beyond compare
V. Pray for us, most Sorrowful Virgin,
R. That we may be made worthy of the promises of Christ. [2]
Pray Prayers from Saints to Our Lady of Sorrows
PRAYER OF ST. BONAVENTURE TO THE MOTHER OF SORROWS
O sorrowful Virgin, unite me at least to the humiliations and wounds of thy Son, so that both He and thee may find comfort in having someone sharing thy sufferings. Oh, how happy I would be if I could do this! For is there perhaps anything greater, sweeter, or more advantageous for a person? Why dost thou not grant me what I ask? If I have offended thee, be just and pierce my heart. If I have been faithful to thee, leave me not without a reward: give me thy sorrows.

PRAYER OF ST. ALPHONSUS DE LIGUORI
O afflicted Virgin, O soul great in virtues, as in sorrows, both the one and the other spring from that great fire burning in thyr heart for God, the only love of thy heart!Mother, have pity on me, who has not loved God, and who has so greatly offended Him. Thy sorrows, it is true, assure me of pardon, but that is not sufficient. I wish to love God. Who could obtain for me that grace if not thee, who are the Mother of holy love! O Mary, Thou consolest everyone; favor me also, with thy consolations. Amen.
Our Lady of Sorrows Resources
[1]: Revelations of Saint Bridget of Sweden PDF
[2]: The Rosary of the Seven Sorrows of Our Lady PDF
[3]: The Seven Dolors; Catholictradition.org
[4]: Carmelite Sisterhood
This post may contain affiliate links, which means I receive a commission if you choose to make a purchase through one of my links (at no cost to you). See my disclosure for specifics.