Howdy! It's fall, y'all!
I like to think that I'm not basic, but something about a list of fall date night ideas really gets me excited for the cooler weather!
I already shared 23 solid movies that are on Netflix RIGHT NOW that you can peruse on your date nights. Today, I'm taking these date night ideas out of the house (gasp) and into that autumn air!
A Couple September Date Ideas!
There's not a lot of September that 'falls' into the scope of this post (hahah sorry).
BUT one particularly exciting feast day does occur on the 29th of September: Michaelmas!
I wrote a post all about celebrating Michaelmas here but wanted to highlight one particularly fun-sounding activity to be done on that day–throwing a Michaelmas Piñata Party.
All you need is:
Some angel-themed food (angelhair pasta or perhaps devil's food cake?)
Piñata-making supplies
Maybe some glowstick halos for party favors
Probably a bonfire because who doesn't love a good fall bonfire?
I think this is the perfect Catholic date night / party to kick off the fall season!
Perhaps also consider an impromptu novena to Our Lady of Sorrows at the end of September!
October Date Night Ideas for catholic Couples
Fall cocktail & movie night
Donate to animal shelter (On the feast of Saint Francis, October 4)
Go to adoration and have nutella sundaes afterward (On the feast of Blessed Carlo Acutis, October 12)
Couple costumes! For extra fun, design the other person's costume for them!
Start a neighborhood 'you've been blessed.'
Did anyone else's neighborhood do 'you've been booed' growing up? We would get three plastic pumpkins and fill them with candy and other goodies and send them out into the neighborhood with instructions to continue the treat-giving.
For a lovely Catholic alternative, consider starting a neighborhood: "You've been BLESSED!"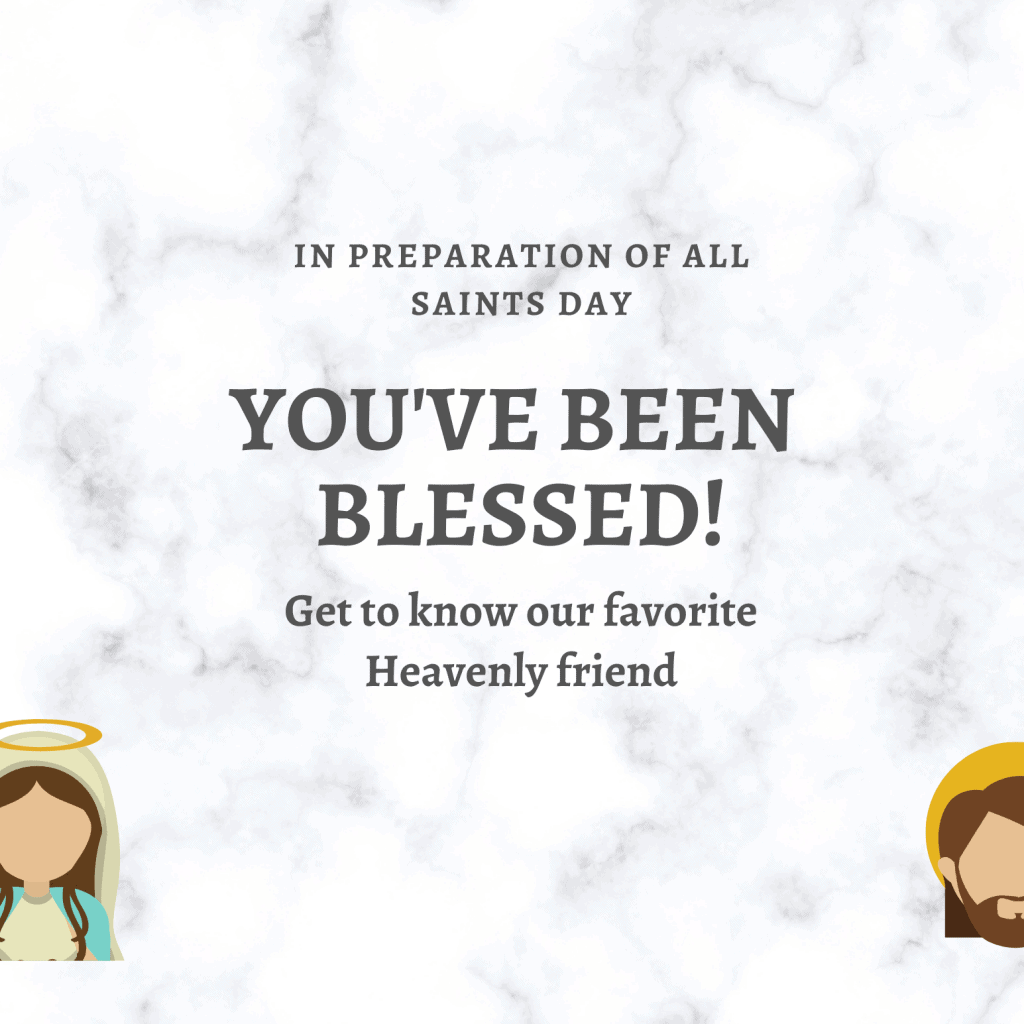 This idea came from The States of Motherhood blog and I LOVE IT! If you live in a less Catholic area, you could always invite people to share their favorite saint or favorite Bible verse instead.
Or just print off these SUPER CUTE "You've been Booed" signs created by Fun Loving Families.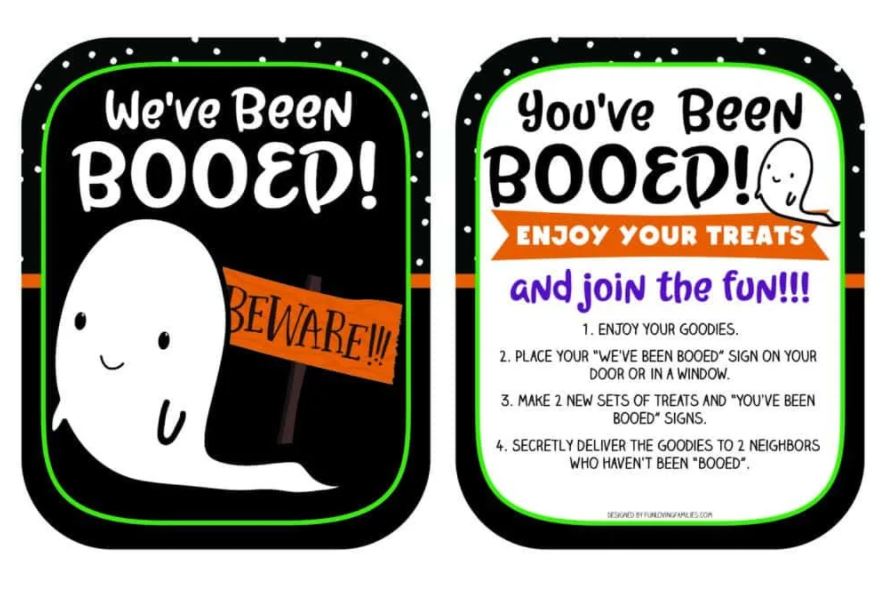 You'll simply drop off a couple of "You've been BLESSED (or) BOOED!" treat containers at your neighbors' houses and hopefully they'll pass on the joy!
Support local trunk or treat
Bonus points if it's to support a Catholic Church! I think trunk or treats are a lovely alternative if your neighborhood isn't super safe for trick or treating (or if your kids want some extra candy!)
Y'all. I love pumpkins. They're so cute, they're a super easy decoration, and they're so versatile! They look great au natural, painted, and (my personal favorite option) carved with a face or a shape.
Perhaps consider upgrading from your regular smiling pumpkin to a Catholic symbol like the cross or Our Lady or the chi rho.
I might need to write an entire post with ideas…
Oktoberfest or fall festival
If you're blessed to have one of these nearby . . . go!! Fall festivals are so fun and I'm positive you'll enjoy strolling with your love in the cool air. Bonus points for Oktoberfest celebrations because those always have bangin' German food and never ending supplies of beer (for those of you gluten-tolerant folks out there).
Print notes with Bible verses with candy
This is a simple gesture, but could quite literally inspire a child to ask questions that will change their everlasting life. So yea—start up your printer!
Celebrate Halloween because it's not a pagan holiday. It's a Catholic one. More on this soon.
Play Gregorian chant for trick or treaters (sounds creepy when mixed with Halloween decor but is religious!)
Wear Saint-Themed Costumes
Kendra at Catholic All Year has droves of fantastic images and ideas for this:
Celebrate Pope Saint John Paul II's feast day with polish food and checking out the liturgical hymn sing along I chose for his feast: "It Is Well With My Soul" (coming soon)
Pray 54 day novena (October is the month of rosary after all)
Fall Catholic Date Night Ideas for November
Attend a renaissance faire as a medieval priest and nun (or perhaps a specific medieval saint if you're feeling especially evangelizing that day!)
Rake someone else's leaves
November is an excellent month to practice the virtue of gratitude. I really love writing three things I'm grateful for in my journal in the mornings. It's also beautiful to try to help people out all month (and they'll be grateful for you!)
Throw an All Saint's Day party (bonus points if your Halloween costume doubles as an All Saint's Day costume)

Go to a cemetery and pray for the souls of the faithfully departed on All Soul's Day

Pray together for departed loved ones
The grief that ebbs and flows when you've lost someone you dearly loved is difficult. Some days, you're able to simply look back fondly on memories of get togethers and laughter. Others, you constantly feel the pangs of grief—wishing they were here. The month of the Holy Souls in Purgatory assuages those pains for me. I pray for my loved ones in purgatory because I know if they're there, they are close to being welcomed into the arms of Our Lord. And if they're already in heaven, I hope they'll intercede for me!
Love on some cats (On the feast of Saint Gertrude, November 16. And always. Always love on kitties.)
Donate money to a women's shelter (On the feast of Saint Elizabeth, November 17)
Also pray the Magnificat! If you're looking for a quick new devotion to Mary, I highly suggest the Magnificat and the Angelus. Low effort, but high payoff in trusting in the plan and mercy of Our Lord.
Sing a hymn (On the feast of Saint Cecilia, November 22)
Go to Mass at a different parish in town and be grateful you tried somewhere new (or find a renewed sense of gratitude for your home parish)
And now for the more *basic* but still super fun fall date ideas:
Pumpkin patch (buy yourself some pretty ones for table centerpieces!)
Apple picking
Fall flower picking
Jump in a pile of leaves (unless they're gross and wet. Then perhaps just admire it from a distance)
Bake a pumpkin Pie or a pumpkin roll (offer your suffering to God when your pumpkin roll cracks into a million pieces because it's a dumb gluten free recipe)
Plant a fall garden
26 Days of Thankfulness (leading up to Thanksgiving, practice gratefulness in your thoughts, words, and deeds—and write down 3 things you're grateful for every morning)
Buy a fall candle (just. do. it)
bake a pie for an elderly neighbor orjusr say hello! Elderly folks can get especially lonely during the holidays and you could change someone's eternal life by being a witness to Jesus's love, mercy, and friendship
This post may contain affiliate links, which means I receive a commission if you choose to make a purchase through one of my links (at no cost to you). See my disclosure for specifics.